As China develops its own smartphone operating systems to beef up security, cellphone users must also provide feedback to help develop the homegrown products, industry players said.
During the China Cybersecurity Week industry event in November, Beijing Yuan Xin Technology's domestically made Syber OS smartphone operating system created waves among the public and major players.
The company has since promoted the operating system to mobile phone users and businesses, "but we found some of them short of security awareness and still preferring other systems such as Android", said Zhao Chunlei, manager of the group's technical research and development division.
There is currently no comprehensive system to pinpoint enterprises that may contain security loopholes, making some of them reluctant to devote funds to maintain their products and services, which in turn affects the development of Chinese operating systems, Zhao said.
"Only some security operators are willing to work with us and try the mobile operating systems. A few smartphone users do not consider information leaks to be a major issue, so that can present us with certain challenges in expanding our product," he said.
"If our users don't care about information protection, it can be tough for us to gather feedback from them and improve our operating system."
The number of mobile Internet users in China reached 527 million by the end of June 2014, figures from research organization China Internet Network Information Center showed.
"Making our own operating system and making it safe have become key to ensuring the country's security," Zhao said.
"The major work ahead of us involves effectively promoting that and attracting more users and technical researchers to use it."
Wang Bing, an assistant manager at West one Information Industry security equipment provider, said in November that the Syber operating system can make online purchases safer and suggested the government issue policies to support such locally developed products.
"If more people use our own smartphone operating systems, security problems can be alleviated and ultimately resolved," Wang said.
Ni Guangnan, an academician at the Chinese Academy of Engineering, said priority should be given to promote domestically developed products in key government or security departments.
But that is just the beginning and more Chinese users need time to accept the home grown smartphone operating systems, he said.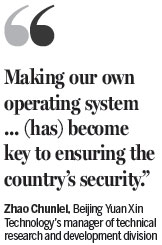 (China Daily 01/05/2015 page5)