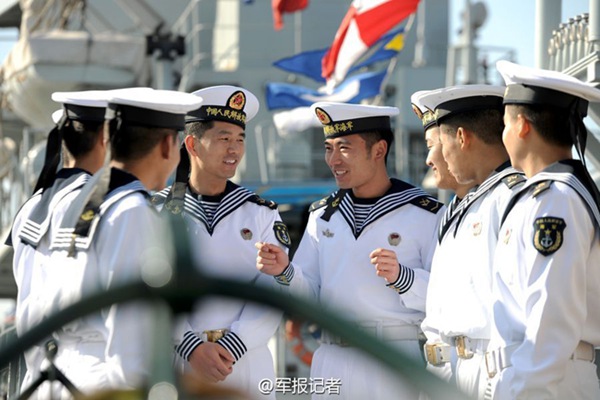 Eight corporals and sergeants in their new sailor uniforms stand on the deck of the mine sweeping ship Jingjiang of a maritime garrison command of the East China Sea Fleet, the Chinese People's Liberation Army Navy (PLAN), on January 1, 2015. According to the Notice on Expanding Coverage of Naval Sailor Uniforms issued by the PLA general headquarters, all the male junior non-commissioned officers in the PLAN will start wearing new sailor uniforms on January 1, 2015. [Photo/PLA Daily]
China's military facilities, from naval bases to airports, are threatened by violations of height restrictions by nearby buildings, the Oriental Outlook reports.
A naval base in Dalian city, Liaoning province, built an 800-meter-long, 22-meter-high wall to keep from being spied on.
At an investment of more than 10 million yuan ($1.61 million), the wall was erected because a group of European-style villas nearby were too tall.
More than ten military airports have been relocated or closed due to safety concerns, according to a statement by the General Staff Headquarters of the People's Liberation Army.
Set up in 1931, Hangzhou Jianqiao Airport is known as the "cradle of China's air forces," yet more than 20 high-rise buildings in the vicinity have exceeded height limits.
Due largely to local governments' poor balancing of economic development and national defense, high-rise buildings pose threats to military reserve zones in many areas, sources said.
A revised law forbidding buildings and structures from violating clearance limits in reserve zones went into effect on August 1, 2014.