'Fox Hunt' highlights successes of broader anti-graft drive, but more work needed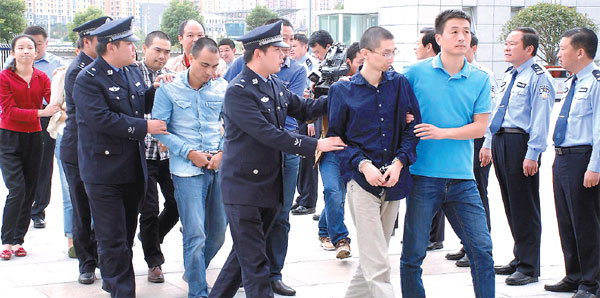 A special anti-graft investigation squad attached to the 'Fox Hunt 2014' campaign escorts four suspects to China from Malaysia on Oct 16. Provided to China Daily
In April 2012, Wang Guoqiang, former Party chief of Fengcheng, Liaoning province, obtained a passport and visa to attend his daughter's graduation ceremony in the United States.
But he was apparently not planning to return home. The senior official had transferred assets worth 200million yuan ($32.5million) out of the country before leaving for the US with his wife, according to the provincial commission for discipline inspection.

More than two years later, on Dec 23, following joint operations between Chinese and US authorities, Wang returned to China and surrendered.
The Central Commission for Discipline Inspection of the Communist Party of China, the country's top anti-graft agency, is now investigating Wang, who is suspected of taking bribes and embezzling public funds.
Wang is one of many officials in the past few years who had fled overseas, including to the US, Canada and Europe, transferring illegally obtained assets through money laundering and underground banks.
Between 1990 and 2011, 18,000 corrupt officials fled, taking up to 800 billion yuan with them, according to the Chinese Academy of Social Sciences.
Through last year, more than 150 corrupt officials were still at large in the US alone, holding billions of illegally transferred yuan, the Ministry of Public Security said.
Wang is one of the 500 fugitives of financial crimes who have been brought back from60 countries and regions by Chinese law enforcement authorities to stand trial after the launch of the "Fox Hunt 2014" campaign, which was initiated in July to nab suspects overseas.
The six-month drive, supported by more than 40 special inspection teams, has been a major breakthrough in the country's wide-ranging crackdown on corruption, which has reared its head not just at home but also abroad.
"Most of the suspects have been transferred to prosecuting departments to face trial," Liu Dong, deputy director of the ministry's financial crimes investigation bureau, told China Daily. "The courts will also decide how the assets seized in the cases should be handled after issuing verdicts."
Officers have netted many fugitives who fled to Southeast Asian and African countries, Liu said. For the first time, many suspects have also been brought back from places like Fiji and Spain. The US, Canada and Australia are also cooperating with China in the hunt for suspects and assets, he said.
The Chinese authorities will continue to work with their foreign counterparts on the exchange of information to rein in suspects and deal with seized assets appropriately, said YouXiaochen, a senior police officer who took part in the arrests.
But practical challenges remain.
"Legal barriers and differences in legal procedures "make it difficult to confiscate assets. Judicial departments in some Western countries like the US and Australia seem "prejudiced against the Chinese legal system and its procedures", Liu said, adding that they mistakenly believe that "Chinese judicial officers will torture the suspects and prosecute the mun fairly".