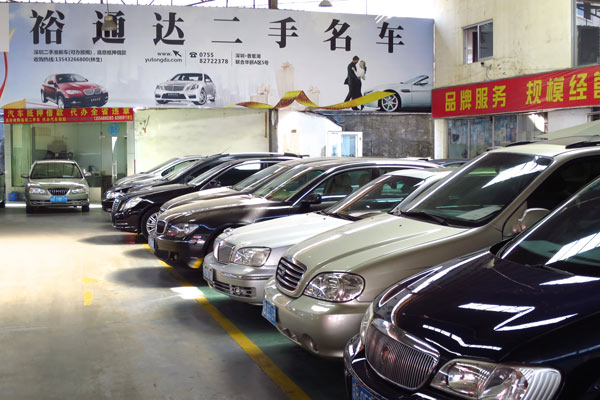 Business slumped at many automobile dealerships in Shenzhen on Tuesday after local authorities imposed limits on car purchases a day earlier. Wen Zi / for China Daily
An abrupt policy to restrict auto sales in Shenzhen has created a credibility crisis for the local government, but officials reiterated that the move will alleviate traffic jams and improve air quality in the city, which has China's third-largest number of vehicles.
The transportation authority announced at around 5:40 pm on Monday that starting at 6 pm, a new policy would take effect under which citizens would face a quota for buying cars.
It is the eighth city nationwide to launch such a restriction.
However, officials, including Mayor Xu Qin, repeatedly dismissed rumors that Shenzhen would not use administrative means to control the fast-expanding number of vehicles this year. Government figures showed that the total number of vehicles had surpassed 3 million by the end of 2013 and is expected to reach 4 million by 2017.
According to the new policy, the government initially set a quota of 100,000 new cars a year, 20,000 of which are to be electric cars and decided through a lottery.
Half of the remaining 80,000 can be obtained by lottery and the other half by bidding, said Chen Huigang, spokesman for the Shenzhen Transport Commission.
This year, 550,000 cars were newly registered in the city.
Yu Zhen, a logistic company employee who bought a car just two weeks ago as a wedding gift from her parents, said she was very lucky. Even so, she said, she was dissatisfied with the government's sudden change of policy.
"We trusted in the government and felt proud of living in a city where the government is capable of handling the issue differently from other big cities," she said. "But now we are disappointed."
Some researchers said the new policy might be a compromise for the failed economic regulation that the government has actively promoted.
The transportation authority proposed plans in July to impose vehicle adjustment fees of either 162 yuan ($26) or 240 yuan a day on cars that park in public lots.
However, the plans did not pass the public hearing stage after representatives questioned the legitimacy of the plans.
"The government has problems brought on by a growing population, while the citizens are eager to have a car for a better life. It's hard to balance," said Liu Rui, an economics professor with Renmin University of China.
In just 35 years, Shenzhen has grown from a fishing town with a population of 30,000 to a metropolitan city with a population of about 14 million.
Liu suggested that the government put more resources into developing public transportation, which would be a way to solve the deteriorating traffic situation.