A senior official at the country's competition regulator has been placed under investigation, anti-graft watchdogs announced on Friday.
Sun Hongzhi, deputy director of the State Administration for Industry and Commerce, is being questioned about suspected violations of laws and discipline.
The announcement was made online by the Central Commission for Discipline Inspection 21 days after Sun disappeared from public view.
The 49-year-old, one of the youngest minister-level officials, was in charge of a number of regulatory areas, including advertising, direct selling and the prevention of monopolies and illegal competitive practices.
In September, Sun said in an interview that the administration has to be courageous in challenging the "obstacles" to safeguarding and improving society, and should crack down on "big tigers" involved in monopolies and unfair competition.
Sun was previously mayor and deputy secretary of the municipal Party committee in Songyuan, Jilin province, a city known for its rich natural resources.
The country has been engaged in an ever-widening campaign against corruption since the current leadership was elected in November 2012.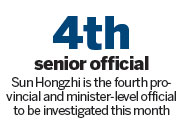 Targets include so-called "flies" - low-level officials involved in minor acts of corruption - and "tigers", high-ranking officials embroiled in bribery or embezzlement involving large sums of money.
Sun is the first minister-level official from Jilin and the SAIC to be probed since the campaign began.
Lan Jun, a former major and Party chief in Songyuan, was investigated this month for suspected serious disciplinary violations. Lan and Sun worked together.
Sun is the fourth provincial and minister-level official to be investigated this month, following Ling Jihua, 58, a senior Party official and national political adviser; Han Xuejian, a member of the Standing Committee of the Heilongjiang Provincial Branch of the Communist Party of China; and Wang Min, the Party chief in Jinan, Shandong province.
wangzhuoqiong@chinadaily.com.cn