Increased security concerns among China's nouveau riche have created a niche market for protection services, luring more martial arts practitioners to become bodyguards.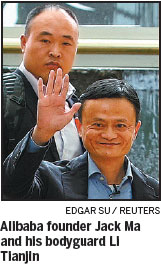 Standing close to Jack Ma, the Chinese mainland's richest man, at a series of recent events was a man of average build in his 30s with brush-cut hair.
Li Tianjin, Ma's security assistant or personal bodyguard, stood out among the billionaire's entourage with his composed presence, watching every move made by his employer, the founder and chairman of e-commerce giant Alibaba Group.
Li, a national martial arts champion, is from Chenjiagou in Wen county, Henan province, the widely recognized birthplace of tai chi.
Wang Zhanjun, vice-chairman of Henan Martial Arts Association, said Li won his first national title at the Wen County International Tai Chi Tournament in 1998.
He has always been loyal to friends from an early age and has trained very hard every day, Wang added.
Li's appointment highlights the growing demand from China's entrepreneurs and celebrities for well-trained bodyguards with martial arts backgrounds who have been educated in etiquette and also have secretarial abilities.
Shi Xingfeng, founder and CEO of the Bojing Security Agency in Beijing, told China Daily on Friday, "Demand for protective specialists is soaring, with customers increasingly sensing the need to protect their lives and property against unknown risks.
"Despite this market demand, the talent pool remains small, with most of the trainees in our company selected neither from retired soldiers nor martial arts athletes or students," Shi said.
The Bojing Security Agency was founded by Shi in 2009 as one of the earliest commercial security service providers approved by China's Public Security Department.
The country currently has 358 billionaires, second only to the United States, and their ranks are expected to grow rapidly in the next decade.
Ma topped this year's Hurun Rich list with net assets of more than $24 billion.
Boasting practical combat skills, martial artists like Li need to improve many other skills - including hostage rescuing, technical driving and outdoor survival - through intense physical and theoretical training, Shi said.
"Professional security assistants are not trained to knock people down for their employers like illegal hatchet men, but to master skills and knowledge to prevent threats from happening," Shi said.
Despite the risky nature of the job, the salary has attracted an increasing number of martial artists to work for wealthy clients.
Qin Xianggang, a former student of Wang's, earned at least 8,000 yuan ($1,286) a month five years ago when he started work as a security assistant for a real estate tycoon in Qingdao, Shandong province.
"This was twice as much as a martial arts coach was paid at that time. The salary for bodyguards has also increased a lot over the years," Qin said. According to Shi, the average salary for a professional security assistant has risen to about 400,000 yuan a year, with specially trained bodyguards earning even more.
Contact the writer at sunxiaochen@chinadaily.com.cn