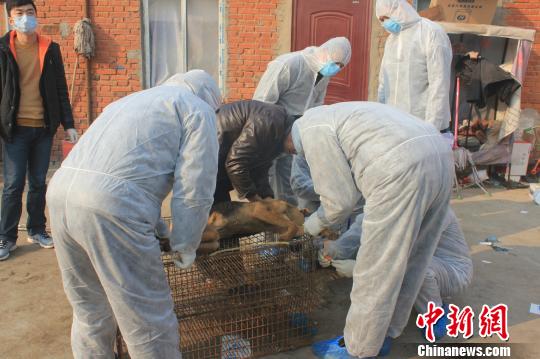 Local animal husbandry authorities inspect dogs in Yingyang, Henan province. [Photo/chinadaily.com.cn]

Hundreds of dog lovers from Beijing and Henan have ended the six-day blockade against the dog dealers who did not have quarantine documents in Xingyang city, Central China's Henan province, and 371 animals have been placed in kennels by the local public security, the local government said on Wednesday.
About 30 dog lovers were arrested for obstructing the administration of public order and were being investigated, according to chinanews.com.
The local animal husbandry bureau of animal disease prevention and control center sampled and treated the 371 dogs coming from Kaifeng, Shangqiu and some cities in Shanxi province, and the disinfection facilities were set up, the report said.
Yu Xing poultry sales company, which own more than 2000 rabbits and 300 dogs, was blocked by the dog lovers for six days because of lack of quarantine documents.
The business license showed that the company was launched on December 3, 2014, However, the villagers said those dog dealers have existed for nearly 10 years, according to the report.
Yu Jianzhong, an animal husbandry authority, said blocking access will not be tolerated as it delays timely treatment, especially when notices about the disinfection facilities were released on the second day.