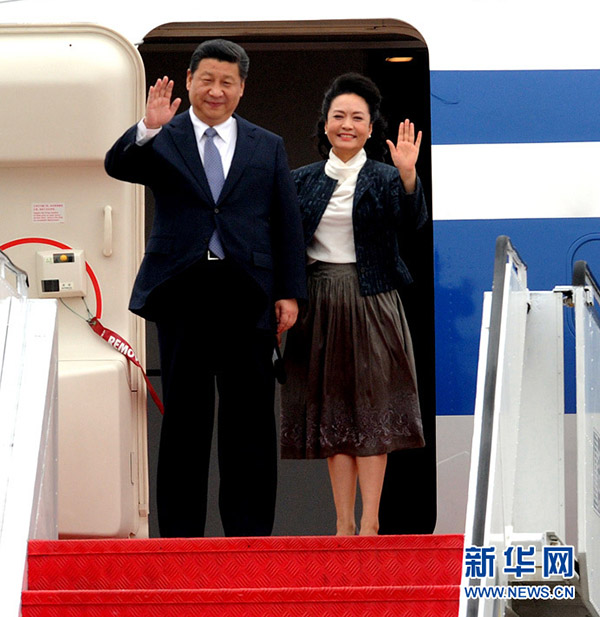 Chinese President (L) Xi Jinping and his wife Peng Liyuan wave as they arrive at the international airport in Macao, south China, Dec. 19, 2014. Chinese President Xi Jinping arrived here Friday noon to attend celebrations marking the 15th anniversary of Macao's return to the motherland, which falls on Saturday. [Photo/Xinhua]
MACAO - Chinese President Xi Jinping arrived in Macao on Friday noon for celebrations marking the 15th anniversary of Macao's return to the motherland.
Xi, also general secretary of the Central Committee of the Communist Party of China and chairman of the Central Military Commission, will also attend the inauguration of the fourth-term government of the Macao Special Administrative Region (SAR) scheduled on Saturday.
Upon arrival at the Macao International Airport, Xi and his wife Peng Liyuan were greeted by Macao SAR Chief Executive Chui Sai On and his wife Fok Waifun, and two Macao pupils who presented bouquets to them.
Xi shook hands with Ho Hau Wah, vice chairman of the National Committee of the Chinese People's Political Consultative Conference and former chief executive of the Macao SAR.
Amid a tune of welcome played by the Macao Police Band, the smiling president waved to hundreds of representatives from various walks of life and school children holding national flags and Macao SAR flags to greet him.
Xi told reporters at the airport that he was delighted to visit Macao again since his last trip to the SAR five years ago.
The president said he was glad to be here "to celebrate with Macao compatriots the festival of great historical significance and convey the good wishes of the central government and all Chinese people to Macao compatriots."
Xi said he was willing to visit local residents, review with them the development of the Macao SAR over the past 15 years and discuss plans for Macao's long-term development.
The president expressed his belief that Macao will progress in a more steady manner on the right track, guided by the "one country, two systems" policy and the Basic Law.