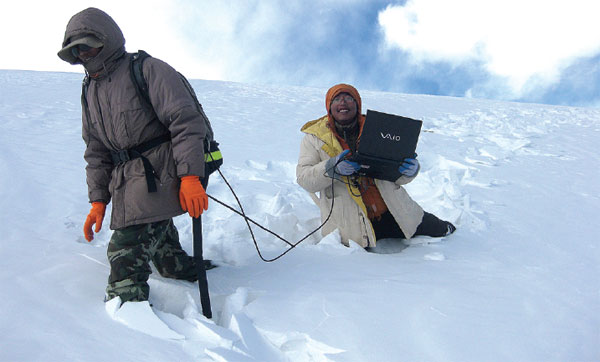 Scientists measure the thickness of ice on the Qinghai-Tibet plateau in 2010.A latest survey showed that China's glaciers have been retreating at a rate of 243.7 square kilometers a year for 60 years. Provided to China Daily
The area of western China covered by glaciers has decreased by 18.5 percent since the late 1950s, equivalent to the size of Cyprus, a recent survey shows.
The Cold and Arid Regions Environmental and Engineering Research Institute of the Chinese Academy of Sciences released its second Glacier Inventory of China on Saturday in Beijing.
According to the survey, the country's glaciers have been retreating at a rate of 243.7 square kilometers a year for 60 years, losing nearly 9,000 square kilometers in total.
The most severely affected glaciers are in the Altai Mountains and Gangdise Mountain range, where 37.2 percent and 32.7 percent of glaciers have disappeared.
Glaciers in the Himalayas, Tangula, Tianshan, Pamir, Hengduan, Nyenchen Tanglha and Qilian mountains have all decreased by 21 percent to 27 percent.
The Karakoram, Altun, Chang Tang and Kunlun glaciers experienced the least reductions, retreating from 8.4 to 11.3 percent.
"We usually call glaciers solidified reservoirs. The glaciers in western China are the headstreams of 10 major rivers across China, which, at the same time, are major water sources for arid regions in Northwest China," said Liu Shiyin, a professor with the Chinese Academy of Sciences who was responsible for the glacier inventory.
In Tarim Basin in the Xinjiang Uygur autonomous region, for example, glacier meltwater accounts for 30 to 80 percent of stream runoff in the region.
"So, in the short term, glacier reductions will result in an increase of runoff. But if the glacier loss continues in the future, the river levels will decrease until they dry up," Liu said.
In the Qilian Mountains in Northwest China's Gansu province, some smaller glaciers have disappeared, causing rivers to dry out.
"Based on current evidence, we cannot tell whether all the glaciers will vanish completely. But the ice loss will definitely influence the amount of runoff," he said.
Chinese scientists carried out the country's first glacier inventory from 1978 until 2002, using data from as far back as the 1950s. The survey included 46,377 glaciers that occupied a total area of 59,425 square kilometers.
To update their knowledge and record glacier retreat brought about by climate change, scientists launched the second survey in 2006.
"Only a few countries in the world have completed such a systemic glacier inventory," said Qin Dahe, a renowned glaciologist and climate scientist. "And China is the only country that has recorded the inventory twice, which is definitely helpful for us to find out the extent of the retreat.
"Glacier retreat is a direct result of climate change. So the measures to slow the melting include cutting CO2 emissions and advocating simpler lifestyles," Qin said.