The last of three giant panda triplets joined its mother, Juxiao, on Tuesday, marking the first complete family reunion after the birth of the triplets at a zoo on July 29.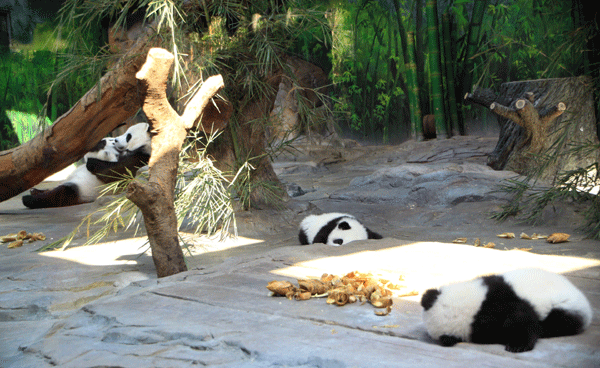 Panda Juxiao plays with one of the triplet cubs while the other two take a nap at the Chimelong Safari Park in Guangzhou, Guangdong province, on Dec 9. ZOU ZHONGPIN / CHINA DAILY
Two of the siblings have been with their mother since Nov 21.
Juxiao walked around the panda center at the Chimelong Safari Park in Guangzhou, Guangdong province, gently hugging and touching the three babies, which are believed to be the only living panda triplets in the world.
It was the first time that Juxiao, whose name means "chrysanthemum smile", had a chance to interact with all three of the triplets since they were born, according to Dong Guixin, general manager of the park.
"Gentle care from the mother giant panda will help the three cubs grow in a more healthy way," Dong said.
Juxiao was unable to look after the cubs in recent months as she was in poor health after their birth, Dong said.
Workers at the zoo fed the cubs both Juxiao's milk and artificial mixed milk in the early stages. They later allowed the mother to nurse each cub in rotation.
"Allowing Juxiao to look after the three babies together carried some risks," Dong said. "The mother might hurt the babies unknowingly - for example, by pressing down on them."
On Nov 21, Juxiao began looking after two cubs and appeared to be happy to be with them, Dong said.
"It is a bold attempt to allow Juxiao to nurture three cubs. We have no experience in terms of allowing a giant panda to look after three babies," Dong said.
The family reunion marks a shift from an artificial fostering arrangement to a mother panda raising all of her own cubs, Dong said. "The cubs have to learn survival skills from their mother."
Each of the three babies now weighs more than 8 kilograms and they are in healthy condition, according to the park.
Of the cubs, the eldest is female and the younger two are male.
Panda triplets have only a 1 percent chance of surviving birth, according to the China Conservation and Research Center for the Giant Panda.
There are only four known cases of pandas conceiving triplets, but not all the cubs survived. In 1999, an 18-year-old panda at the Chengdu Research Base of Giant Panda Breeding gave birth to three cubs, but only one survived.