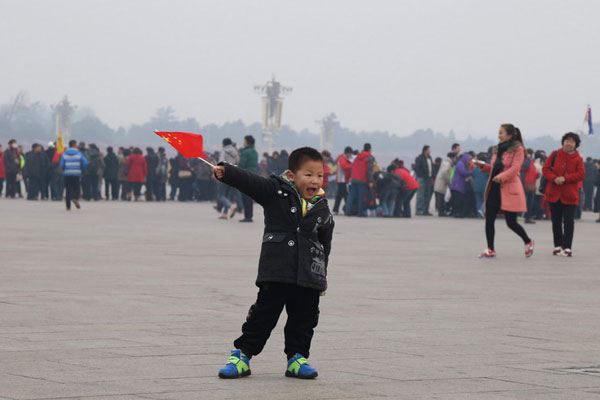 Tiananmen Square is again cloaked in smog on Wednesday. [Photo/IC]
Thick smog and low visibility are expected to affect the city in the next two days and slightly less pollution will remain through the week, according to Beijing's municipal meteorological observatory, Beijing Youth Daily reported on Wednesday.
The downtown and southern areas will suffer the most severe effects with visibility in some areas likely to be less than 200 meters.
The first cold wave of winter will arrive by the weekend with the temperature hitting a low of minus ten degrees, according to the National Meteorological Center of the China Meteorological Administration.
The smog will disperse with the coming cold air while air pollution will continue to affect the city.
Li Shixiang, Beijing's executive vice mayor, said: "Improving air quality needs everybody's effort. APEC blue showed us what a positive result we can receive when everybody works on air pollution".
According to Li, the government will consider applying odd-even license plate traffic rules long term.
The rule only allows cars to drive on alternate days based on the odd or even last number on its license plate.