China has been upgrading juvenile justice since the first tribunal for minors was established 30 years ago, in an effort to provide better protection for young offenders and their victims, the top court said on Tuesday.
The number of juvenile tribunals has risen to 2,253 since October 1984, when the first one was built in Shanghai's Changning district, the Supreme People's Court said.
These juvenile courts have punished more than 1.5 million young offenders, and the recidivism rate has been kept to about 2 percent since 2002, the court said.
Shanghai juvenile tribunals handed down punishments to 33,602 offenders over the past 30 years, according to the municipal high people's court. The court said the figure fell to 1,045 in 2013 from 2,682 in 2007.
In 2010, 130 juveniles committed new crimes in Shanghai, but the figure dropped to 43 last year, the court added.
The decrease in young offenders and the lower recidivism rate can be traced to the revised Criminal Procedure Law, which took effect in January 2013 and has 11 articles aimed at juveniles, as well as to upgrade hearings across the country, said Yue Huiqing, director of the juvenile crime office at Beijing People's Procuratorate.
The number of young offenders who weren't prosecuted in the capital's court last year rose to 290 from 114 in 2011, Yue said.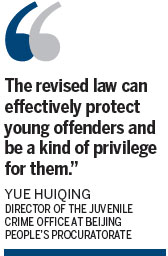 Prosecutors have discretionary power to decide to cancel a prosecution in the case of a young criminal who pleads guilty and whose crime calls for a sentence of less than one year in prison, she said.
"The revised law can effectively protect young offenders and be a kind of privilege for them," she said, taking a 17-year-old offender's case as an example.
A juvenile surnamed Mao from Sichuan province was detained for allegedly causing trouble after getting drunk in Beijing in 2013, but he confessed to his misdeeds. Prosecutors in the capital's Chaoyang district decided to put him under observation instead of prosecuting him.
Yang Lu, from the district's prosecuting authority, said that they sent Mao to the Capital Library of China, which has cooperated with rehabilitating and supervising young offenders who are not prosecuted, and asked Mao to assist social workers with tidying up books and learning legal knowledge.
"The workers gave us feedback on Mao's performance every day, and Mao could receive psychological aid in the library sometimes as well," Yang said, adding that if young offenders do not do well in observation, they will be prosecuted.
In addition to offering better legal protection, a tribunal under Siming district's court in Xiamen, Fujian province, has kept juveniles from committing offenses through a summer camp.
Judges in the court help children to discuss typical minor cases, ask them to take part in a legal knowledge competition and create a mock court in the summer camp, hoping to let them understand laws in an easy way, the court said.
So far, more than 1,000 children have visited the court. The summer camp has been held 13 times, the statement said.
caoyin@chinadaily.com.cn
(China Daily 11/26/2014 page3)