A senior official from Hebei province and a member of the country's top watchdog organization has been placed under investigation for suspected corruption, disciplinary authorities said on Thursday.
Liang Bin is head of the Organization Department of the Hebei Provincial Committee of the Communist Party of China, a statement from the CPC Central Commission for Discipline Inspection said.
Liang became a member of the watchdog organization in November 2012, when China's new leadership took office.
An inspection team sent to Hebei received tipoffs about Liang between July and September. He was the first provincial-level official in Hebei to be investigated.
Liang is the latest high-ranking official to be placed under investigation for suspicion of graft. In October, provincial-level officials, including He Jiacheng, former vice-president of the Chinese Academy of Governance, and Zhao Shaolin, a senior official in Jiangsu province, were said to be the subjects of probes.
"We will cooperate with the top anti-graft authority to conduct a further investigation of Liang's case," Zhou Benshun, Party secretary of Hebei, said on Thursday. "All the governmental officials in Hebei will draw on the lesson and pay more attention to integrity issues."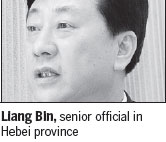 According to thepaper.cn, Liang's case connects with Shanxi province, where inspectors were dispatched this year to collect clues, and where seven provincial-level officials have been probed.
Probes included Jin Dao-ming, former vice-head of Shanxi's provincial people's congress; Ling Zhengce, former vice-head of the provincial political advisory body; and Chen Chuanping, former Party chief of Taiyuan.
Media reported that Liang worked in Shanxi for more than 30 years and was Party chief of Suozhou and vice-governor of Shanxi between 2001 and 2008.
When he was vice-governor of Shanxi from 2003 to 2008, Liang allegedly established close relations with Jin, who was investigated in July on suspicion of abusing his power to protect corruption and adultery. Liang was also said to be connected to Ling, who was investigated in June on allegations of accepting large bribes.
Liang's brother ran an engineering company in Shanxi, and the company's main businesses involved landscape maintenance and real estate development. The company had many projects in Hebei province and in Changzhi city in Shanxi, according to thepaper.cn report.
The central inspection team found that land development and urban construction were the sectors most affected by corruption in Hebei, Xinhua News Agency reported.
"Some officials used their job convenience to interfere in projects and gain huge benefits for enterprises and their family members," said Wang Zhengfu, director of the inspection team in Hebei.
Moreover, some evidence of corruption was also found in officials' elections and promotions in Hebei province, Wang said.
According to Hong Daode, law professor at China University of Political Science and Law, "The inspection will play a deterrent role for corrupt officials."
"Based on the tipoffs provided by inspectors, the anti-graft authorities will expose more corruption and take steps to target corrupt officials," he said.
Contact the writers at zhangyan1@chinadaily.com.cn and peipei@chinadaily.com.cn
(China Daily 11/21/2014 page5)