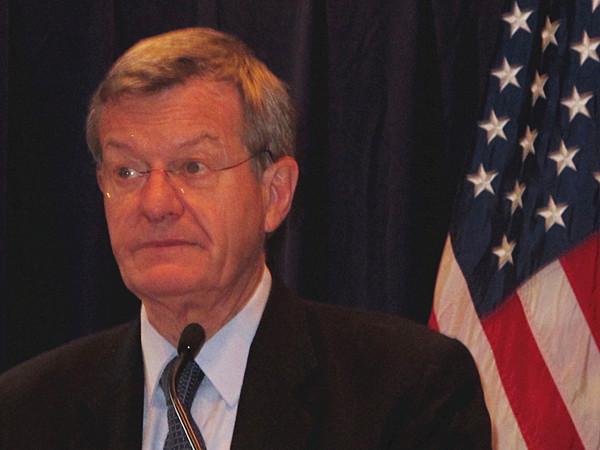 US Ambassador to China Max Baucus attends a news conference in Beijing, Nov 18, 2014. [Photo by Guo Rong/chinadaily.com.cn]
The number of international students in US colleges and universities has increased by 8% to 883,052 during the 2013-14 academic year with 274,439, or 31 percent coming from China, according to a report released by the Institute of International Education (IIE).
The 2014 Open Doors Report on International Education Exchange (Open Doors) shows a 16.5 percent growth from the number of Chinese students studying in the US over the previous year. According to the report, China remains the most number of international students studying in the US.
This is the tenth consecutive year that Open Doors has reported an increase in the total number of Chinese students studying in US higher education institutions, the number has been growing at an average rate of 16.5 percent since 2005.
Starting on Nov 12, the US and China reciprocally increased the validity of short-term business and tourists visas as well as student and exchange visitors exchange visas issued to each other's citizens.
Under the new arrangement, Chinese students will find it easier and more convenient to return home to China during their studies in the US.
US colleges and universities encourage more enrollments of Chinese students and there is no policy restriction on that, said US ambassador to China Max Baucus at a press conference at the US embassy in Beijing.
There will be no change in visa application fees and the procedure will be the same when the extended visa validity takes effect, said Baucus.
He also recommended EducationUSA China, a network of hundreds of advising centers helping Chinese students find free information about how to apply to accredited US higher education institutions at the press conference.
The Open Doors report is published annually by the IIE in partnership with the US Department of State's Bureau of Educational and Cultural Affairs.