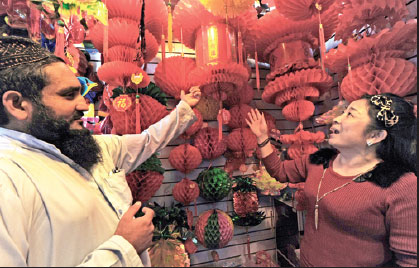 Afghan merchant Asal Abdullah talks to the owner of a lantern shop in Yiwu, Zhejiang province, on Sept 22. Yiwu is an internationally renowned hub of small commodity businesses and vibrant markets. Tan Jin / Xinhua
The country needs to explore a new model of overseas investment in Afghanistan to protect Chinese entrepreneurs in the war-torn country, experts said, as an uncertain security and political future has held back investors.
Yin Gang, a researcher of Middle East affairs at the Chinese Academy of Social Sciences, said security is the first issue to tackle if Afghanistan wants to attract more overseas investors.
He suggested that China explore a new model of overseas investment in Afghanistan, a package that includes both business cooperation and permission for China to deploy its own security forces to protect the enterprises.
Yin said security concerns are mounting, especially with most US and NATO combat troops pulling out of Afghanistan by the end of this year, leaving around 10,000 US troops.
But he admitted it would be a difficult decision for China if it dispatches security protection forces for business people, since until now the country has shown little interest in filling the vacuum left by Western troops.
Sun Yuxi, special envoy for Afghan affairs, said in a previous interview that China would rather play an important role on the business front during the reconciliation of Afghanistan.
China and Afghanistan signed agreements on economic and technology cooperation on Tuesday after President Xi Jinping met with visiting Afghan President Ashraf Ghani Ahmadzai in Beijing.
Ghani said Afghanistan is willing to cooperate with China on the development of oil and gas, mining, and the construction of infrastructure and public facilities.
Afghanistan has an estimated $3 trillion worth of natural resources, including copper, iron ore, silver, gold, coal and gems, and little has been exploited because of the war and a lack of infrastructure.
But investment by Chinese companies in the neighboring country is proceeding slowly. Among more than 30 projects with Chinese investment, the biggest is at a standstill seven years after the two sides agreed on a $3 billion deal to develop a 5-million-ton copper deposit at Mes Aynak, near Kabul.
Other major investments include a $400 million project by China National Petroleum Corp to develop three oil blocks in northern Afghanistan.
Mushahid Hussain, chairman of Pakistan's Senate Defense Committee, told Xinhua News Agency that among many other countries, China probably has the most credibility and capability to promote peace, security and stability in Afghanistan.
"Unlike Russia or the United States, China carries no historical 'extra-baggage' ...and stayed away from all previous conflicts or civil wars in Afghanistan. And, unlike the increasingly bankrupt West, China has the financial resources to sponsor much-needed investment in key sectors of Afghanistan's development," he said.
zhaoyinan@chinadaily.com.cn