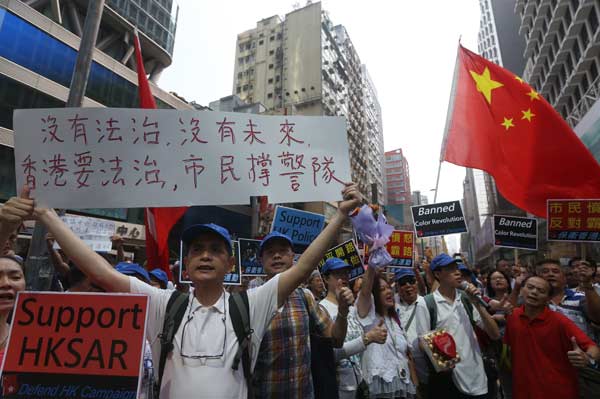 Placards support the police and government at a rally opposing the "Occupy Central" movement in Hong Kong's Mong Kok district on Wednesday. One placard reads: "No rule of law, no future. Hong Kong needs rule of law, and residents support police."
Clashes continued in Hong Kong on Wednesday as demonstrators ignored a court order to vacate protest sites.
Protesters manned barricades for a second day after the city's High Court ordered key roads to be cleared.
Notices of the court injunction were placed in newspapers, plastered on walls and read out by bailiffs, but the protesters ignored them and scuffled with opponents.
A standoff lasted into Wednesday evening after a brief confrontation in Mong Kok following the lunch hour.
A group of taxi drivers and people opposing the protests descended on a blockaded intersection in the district and dismantled barriers before police moved in.
A man was detained for suspected arson after he allegedly threw what is believed to be a flammable liquid as protesters subdued an opponent venting his frustration over the blockades.
Dozens of taxi drivers, with their vehicles covered in messages supporting the police, staged a drive-by in the district.
Alliance for Peace and Democracy founder Robert Chow plans to launch a signature campaign to support police clearing the roads.
"People should have the choice of living normal lives. We hope this movement to resume law and order can make our voices heard," Chow said.
Democratic Alliance for the Betterment and Progress of Hong Kong chairman Tam Yiu-chung called on protesters to respect the city's rule of law and the court injunction, describing the protest scene in Mong Kok as "virtually a riot".
Three transport companies are also seeking injunctions to open key roads near the central business district, citing HK$3 million ($386,730) in losses caused by the closures.
A separate injunction obtained by the owners of CITIC Tower in Admiralty continued to be ignored by protesters who have blocked routes used by emergency vehicles.
Police Chief Superintendent Stephen Hui urged parents not to take their children to high-risk protest zones, citing safety concerns, and saying that those who do so are irresponsible and behaving in an extremely dangerous way.
Hui said TV footage of clashes among protesters showed that the sit-ins are far from being peaceful and non-violent, adding that radical protesters and "troublemakers" are gathering at protest zones to incite the demonstrators and to challenge police.
He described protesters' actions as "utterly illegal and provocative", citing incidents where demonstrators surrounded police vehicles and police stations to demand the release of those arrested. Others had interfered with arrests and attempted to seize those detained, Hui said.
He said the personal details of officers, who have already received verbal abuse, have been uploaded online by critics targeting their families.
Hui said there are increasing incidents of officers' families being targeted for intimidation and bullying in cyberspace.
Police detained a 23-year-old man for allegedly sending a threatening message to an officer's daughter.
Hui reiterated warnings that "real world" laws also apply in cyberspace and criticized those who incite others online to carry out illegal acts. These included an online call to occupy the city's international airport, he said.