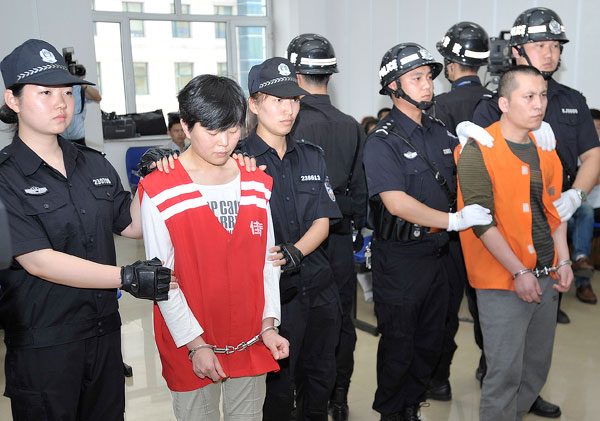 Bai Yunjiang (right) is sentenced to death by a court in Jiamusi, Heilongjiang province, on June 16 for murdering a 16-year-old girl in July, 2013. Bai's wife, who lured the girl to their home and was pregnant at the time, was sentenced to life in prison. XIAO JINBIAO / FOR CHINA DAILY
A high-profile case in which a pregnant woman helped her husband kidnap, rape and kill a teenage girl in Jiamusi in Northeast China's Heilongjiang province last year, had its trial of the second instance heard in a private session in the Supreme People's Court in Heilongjiang province on Wednesday, chinanews.com has reported.
The Supreme Court has decided to announce the verdict at a later date, according to people.cn on Wednesday.
The married couple received their sentences in June: the husband was sentenced to death and his wife was jailed for life due to her being pregnant at the time of the crime.
The man said he would appeal to a higher court and the wife accepted her verdict after the judgment of the first instance.
The murder occurred on July 24, 2013.
The court had heard how a pregnant Tan Beibei pretended she was unwell and asked 17-year-old Hu Yixuan, who walked by the suspect, to escort her home.
Tan suffocated the girl with the help of her husband, Bai Yunjiang, after the victim refused to have sex with Bai.
The offenders confessed they had drugged and killed Hu and hid the body in a travel case to dispose of later.