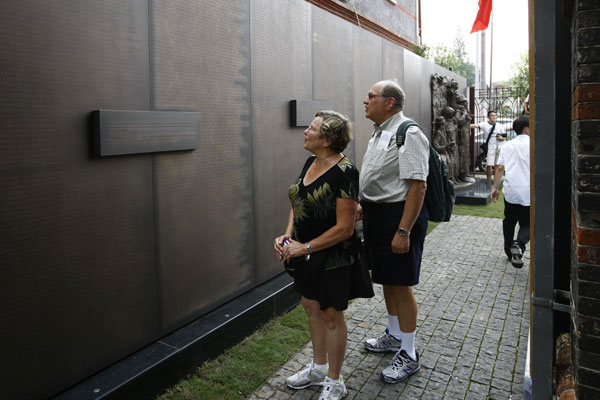 A couple from the United States seek the name of an uncle on a memorial wall on Tuesday in Shanghai. The wall lists 13,732 names of Jewish refugees from Europe who found a haven in Shanghai during World War II. It was an open city that didn't require visas.[Photo/Xinhua]
A memorial wall listing the names of 13,732 Jewish refugees who settled in Shanghai during World War II will be formally unveiled on Wednesday.
At least 18,000 European Jews fled to the city in the 1930s and 1940s after escaping from Nazi Germany. Most survived the war.
They lived in a designated area for stateless refugees in the Tilanqiao area and were welcomed by other residents.
"In order to record this period of history, we have worked with former Shanghai Jewish refugees and both Chinese and overseas scholars to collect lists of names," said Chen Jian, director of the Shanghai Jewish Refugees Museum.
"We hope that the memorial wall will help people to remember the war and better understand the history and the efforts of Shanghai residents to protect Jewish refugees."
The copper wall at the museum is 34 meters long. Most of the names come from the German book Exil Shanghai 1938-1947.
Sonja Muehlberger, one of the co-authors and a former refugee in the city, says in the book that the list was typed by three Jewish women employed by the occupying Japanese forces in Shanghai.
Muehlberger, 75, was born in Shanghai, where her parents sought refuge during the war. Her younger brother was also born in the city. She now lives in Germany.
She has extensively studied the history of Jewish refugees in Shanghai and has published a number of books on the subject.
"If we hadn't fled to Shanghai I would not be alive now, nor would I have an opportunity to tell the story," she said.
The wall features sculptures of six representative figures.
The depictions of an orthodox Jew, an elderly Jewish woman, a middle-aged man, a child and a young man and woman represent faith, suffering and love, determination for the future, and brightness and hope, according to Chinese artist He Ning, who designed them.
"The sculptures and memorial wall are being unveiled ahead of 2015 - the 70th anniversary of the victory over fascism," Chen said.
"We will continue to collect historical material and add newly discovered names of former Jewish refugees in Shanghai to the list."
wanghongyi@chinadaily.com.cn