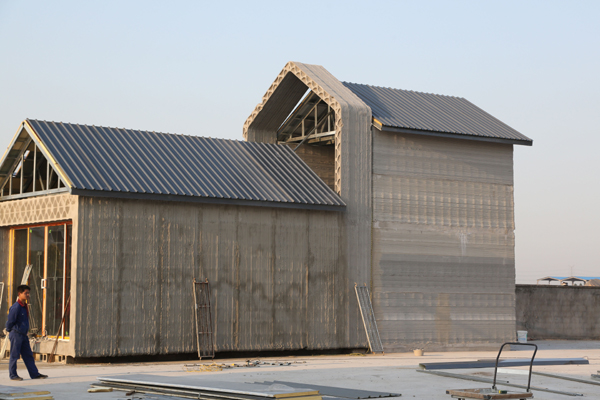 A man stands outside a house in Shanghai that was constructed with materials made by 3-D printing technology. Gao Erqiang / China Daily
A Chinese company recently built 10 full-sized houses using a giant printer.
The detached, one-story houses now standing in the Shanghai Hi-Tech Industrial Park, in the city's Qingpu district, look like ordinary buildings. But they were "printed out" in less than a day with "contour crafting", commonly known as 3-D printing technology.
Four huge printers measuring 32 meters long, 10 meters wide and 6.6 meters tall were used to make the houses, which were built layer by layer.
"It's not only cost-effective but also environmentally friendly," said Ma Yihe, inventor of the printers, who is also president of the Shanghai Winsun decoration and design company.
"Unlike traditional construction, the new technology doesn't produce any waste," said Ma, who has been working in the 3-D printing construction industry for 12 years.
The materials used to make the houses are a mixture of quick-drying cement and recycled industrial waste, which help lower construction costs by up to 50 percent. For the moment, the company is keeping the recipe for the cement a secret.
Meanwhile, the houses can withstand just about any safety test, Ma said.
"We have conducted risk assessment on these buildings. People can live and work inside them without any problems," Ma told China Daily.
He said he is very proud of the technology and hopes it can be used in more types of construction work.
"Over the past years, a large number of skyscrapers have been springing up all over the country. One thing that should be noted is the huge amount of dust and haze produced during construction, which can harm the environment and people's health," Ma said.
"We need to finish these construction projects in a greener way," he said, adding that his company is already in talks with several real estate developers.
So far, there is no specific building standard for 3-D printed houses in China.
Jonathan Jaglom, general manager of Asia Pacific and Japan of Stratasys, a leading provider of 3-D printing and additive manufacturing solutions, said using 3-D printing technology has brought many revolutionary changes to the world.
For example, in the event of a disaster such as an earthquake or flood, shelters can be built very quickly, he said.
wanghongyi@chinadaily.com.cn