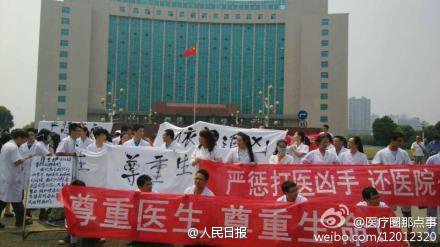 Photo published on

microblogging site

Weibo shows doctors protesting in Yueyang, Hunan province. 
Hospital doctors in Yueyang, Central China's Hunan province, gathered at the city government offices on Thursday to protest an attack by relatives of a patient who died, The Beijing News reported Friday.
The deceased patient, a 31-year-old man, was sent to Yueyang Second People's Hospital on Wednesday for a knife wound in the chest, but was pronounced dead despite emergency treatment.
After the patient's body was transferred to the morgue, a group of his relatives stormed into the office of the doctor who was in charge of the treatment, beating him and forcing him to kneel in front of the dead. The doctor was saved by other hospital staff.
The relatives of the deceased patient later blocked the entrance of hospital buildings and smashed property before they were stopped by police.
More than 100 doctors from the hospital gathered outside the municipal headquarters the next day, in protest of the  attack. The group demanded a thorough investigation and severe punishment for the suspected attackers. The doctors called for a safer environment for medical workers.
One doctor at the protest complained: "The hospital is no longer a safe place. We are full of fear at work."
According to an investigation by the city's health authority, doctors performed emergency treatment in a timely manner. The health authority added that the patient's relatives could attempt to resolve the dispute through a lawsuit.
The police were able to bring the attackers under control and deployed a special committee to investigate the case.
The Yueyang hospital attack is the latest in a string of doctor-patient disputes that led to assaults across China in recent months.
In March, a patient attacked a doctor with a hammer in a hospital in Beijing.
In February, a doctor from Northeast China's Heilongjiang province was beaten to death by a patient over an allegedly unsatisfactory treatment.
In October 2013, a doctor in Wenling of East China's Zhejiang province was stabbed to death by a disgruntled patient.