A sprawling market floor in Guangzhou was once a prime location for shark fin, one of China's most expensive delicacies. But now it lies deserted, thanks to a ban from official banqueting tables and a celebrity-driven advertising campaign.
One stallholder at the Shanhaicheng center ate his lunch quietly at a desk, flanked by four glum-looking colleagues and giant white sacks overflowing with thousands of dollars' worth of unsold gray stock.
A woman at the next stall fiddled with her mobile phone, plastic bags of dried yellow fins untouched on the shelves behind her.
Outside, the bustling, narrow streets of the Guangdong provincial capital were packed.
"I don't eat shark fin," said a 23-year-old shopper surnamed Ling, pausing between an array of multicolored dried starfish and an assortment of wood ear mushrooms. "It's dirty, it's cruel and I think it's quite expensive.
Costing as much as 1,600 yuan ($260) a bowl, shark fin soup has long been among the country's most-prized dishes, renowned as much for its supposed medicinal qualities as for its associations with wealth and power.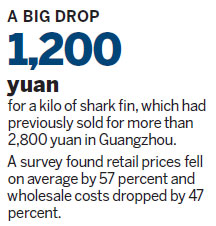 But the appetites of many diners appear to have been spoiled by authorities banning the dish from official banquets and by a national anti-shark-fin advertising drive backed by former basketball star Yao Ming and other celebrities.
China is one of the top consumers of shark fin, according to the campaign group Wild-Aid.
In 2012, the central government announced a ban on serving shark fin, bird's nest soup and other wild animal products at official functions, saying that it would set a precedent that would help to protect endangered species.
WildAid also began a high-profile, celebrity-backed advertising campaign on the issue, targeting consumers with the slogan, "When the buying stops, the killing can too."
Demand has since fallen dramatically, the group says, with the biggest impact being felt in Guangzhou, the heart of the country's shark fin industry.
A WildAid survey released this month found that shark fin sales had slumped in the city, with retail prices falling on average by 57 percent and wholesale costs dropping by 47 percent.
A kilo of shark fin, which used to change hands for more than 2,800 yuan, is now being priced at 1,200 yuan, or even less, in Guangzhou's Yidelu special dried seafood bazaar, local media reported.
In Hong Kong, a major transit point for the trade, import-export volumes have plunged.