A zoo has unveiled newborn giant panda triplets billed as the world's first known surviving trio in what is being hailed as a "miracle" given the animal's low reproductive rate.
It took almost four hours for the mother, Juxiao, to deliver the cubs, which weighed 83 grams, 90 grams and 122 grams, at Guangzhou's Chimelong Safari Park, Guangdong province, on July 29.
The triplets were put into incubators while Juxiao, meaning "chrysanthemum smile", regained her strength. They are now back with their mother who is nursing them under the watchful eyes of a team of zoo staff that looks after them 24 hours a day.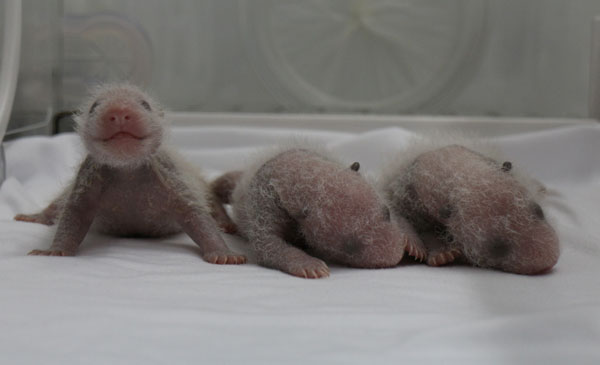 Giant panda triplets were born at Chimelong Safari Park, in Guangdong province, on July 29. Provided to China Daily
"After nearly two weeks under the care of the mother the babies are very healthy," said Dong Guixin, general manager of the park.
"They now weigh nearly twice what they did when they were born."
Pictures show the pink cubs inside an incubator with their eyes closed and their bodies sparsely covered with white fur.
"The mother and babies were in good condition, but the adorable newborns were particularly inspiring," the zoo said.
The gender of the cubs was not disclosed, and they will be named later.
Zhang Hemin, director of the China Conservation and Research Center for the Giant Panda, Sichuan province, said panda triplets have only a 1 percent chance of surviving birth.
"Now we have created a miracle," Zhang said. "The three pandas have a great chance of staying alive, as they are now very healthy."
There are only four known cases of pandas conceiving triplets, said Wang Chuandong, head of the animal hospital in the China Conservation and Research Center for the Giant Panda.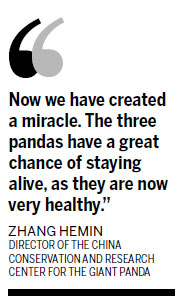 In 1967, a 9-year-old panda at Shanghai Zoo gave birth to three cubs, but all died. In 1999, a 16-year-old panda in Wang's center gave birth to triplets, but only one survived.
In August, an 18-year-old panda at the Chengdu Research Base of Giant Panda Breeding conceived three cubs, only one of which was born alive.
"The newborn cubs died because the embryos did not grow well or they had congenital diseases," Wang said.
Wu Kongju, a panda expert at the Chengdu breeding base, said that during pregnancy a panda mother gradually reduces her food intake and eventually fasts.
"As a result, triplets would be malnourished and very light," she added. "The only triplet born alive last August weighed only 96 grams, compared with a normal newborn cub weight of between 120 and 150 grams."
On Tuesday the base launched a four-month live broadcast through the video-sharing websites YouTube, NicoNico and yoku that will explain how pandas are born and grow.
"People who have access to the websites may see how panda cubs are born, how cubs learn to crawl, climb trees and eat bamboo," said Li Jie, an information officer at the base.
Pandas, whose natural habitat is mountainous southwestern China, have a notoriously low reproductive rate and are under pressure from habitat loss and other factors.
China has about 1,600 pandas living in the wild. Their normal breeding season is February to May, Wang said.
Contact the writers at qiuquanlin@chinadaily.com.cn and huangzhiling@chinadaily.com.cn