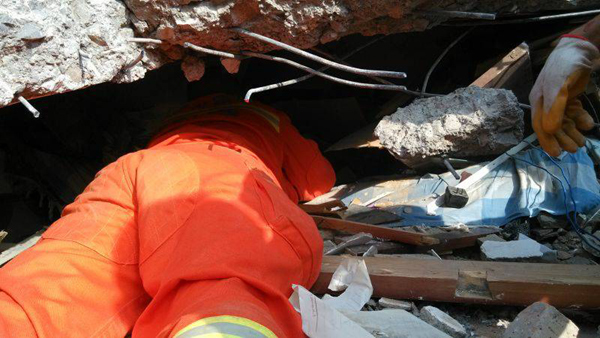 A rescuer searches for survivors in a toppled house in quake-hit areas in Southwest China's Yunnan province, on Aug 6, 2014. [Photo provided to chinadaily.com.cn]
LUDIAN, Yunnan -- Rescuers are searching for survivors in a quake-hit area in Southwest China as the "golden 72 hours" for survival tick away and the death toll rose sharply on Wednesday.
Deaths have surged to 589 following Sunday's 6.5-magnitude earthquake in Yunnan Province, including 504 reported in worst-hit Ludian County and 72 in Qiaojia County.
Risks also loom over a growing barrier lake with a water volume of 49.6 million cubic meters, which has led to evacuation of 4,200 residents living on the lower reaches of the Niulan River, located near the junction of Ludian and Qiaojia.
Sun Huaikun, who is in charge of the barrier lake response, said a reservoir on the upper reaches is intercepting river water to reduce pressure on the lake, while two hydropower stations on the lower reaches are speeding up the discharge of water.
Sun added that hydrological experts are mulling a scheme to handle the lake. Located 8.2 km away from the epicenter of Ludian's Longtoushan Township, the lake was formed by a landslide blocking the river.
The tremor has also left 2,400 injured and nearly 230,000 relocated and suffering acute water and food shortages. Nine people in Qiaojia were reported missing.
Rescuers and search dogs are working to find the missing people as well as possible unreported casualties, especially in remote, sparsely populated areas.
Rescue operations, hampered by downpours and frequent traffic disruptions, are facing acute time pressures as the likelihood of survivors declines after 72 hours.
Two "miracles" have inspired optimism among rescuers as two senior residents, aged 88 and 76, in quake-flattened Babao Village were pulled out of debris about 50 hours after the disaster.
Both are in stable condition, said doctors.
By Tuesday noon, health institutions in Zhaotong City, which administers Ludian, had treated 1,947 people, including 43 whose lives were in danger.
Chen Min, head of Ludian's county hospital, said many medical centers have been set up in quake-hit areas and the seriously injured were taken to his hospital and other hospitals in Zhaotong.