Beijing, Tianjin and Hebei province are showing how they are using science and technology to address smog problems in their area.
A total of 170 science and technology research projects aimed at tackling the problem have been exhibited in Hebei since Friday.
Sponsored by the Ministry of Science and Technology and the governments of Beijing, Tianjin and Hebei, the exhibition is open to experts, businesspeople and the public until Aug 15. Admission is free.
Wan Gang, minister of science and technology, said Beijing, Tianjin and Hebei are cooperating in science and technology with a joint vision of innovation, sharing resources, encouraging technology applications and creating an innovative environment. That cooperation has effectively reduced smog days this year, Wan said.
One of the popular areas in the exhibition is dedicated to new energy vehicles, with BYD Auto Co's new model, the Qin, a hybrid that runs on electricity and gas, generating a lot of interest.
If the car runs out of electricity, it can switch to gas, said Wei Yanzhang from BYD's research and development department.
Recharging electric vehicles is a difficult issue, since establishing recharge stations for new energy vehicles will take time, said Wang Lifang, a researcher from the Institute of Electrical Engineering at the Chinese Academy of Sciences. Wang's team is working on a way to charge wirelessly to offer more convenience to car owners, she added.
Vehicle exhaust emission is one of the main sources of smog, said Chen Guoying, director of the Hebei Environmental Protection Bureau.
New energy vehicles will help reduce smog days, Wang said.
Wang's wireless-charge project is one of the 45 cases Beijing presented in the exhibition.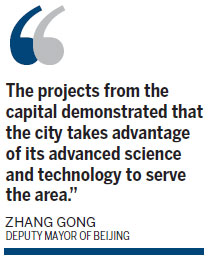 Zhang Gong, deputy mayor of Beijing, said that Beijing, Tianjin and Hebei encourage the use of new energy cars and will introduce the new model into the area's public transportation system.
"The projects from the capital demonstrated that the city takes advantage of its advanced science and technology to serve the area, providing tech support to tackle smog problems," Zhang said.
The capital signed a framework agreement with Hebei to establish an industrial park in Caofeidian, Hebei, on July 31, as a meaningful step to deepen cooperation, Zhang said.
"Ever since the Ministry of Science and Technology signed a cooperation agreement with Hebei in 2008, more than 4,000 related projects have been launched in Hebei," said Zhang Qingwei, governor of Hebei province. The new agreement was made in May, and the ministry and Hebei will continue to implement the cooperation, Zhang added.
President Xi Jinping called for strengthening economic coordination in the Beijing-Tianjin-Hebei region in February.
Premier Li Keqiang made a similar statement on March 5 at the opening of the National People's Congress, the nation's top legislature.
Plans for coordination were written into the government work report for the first time and brought to the State level.
luowangshu@chinadaily.com.cn