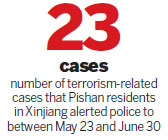 Residents of Pishan county in the Xinjiang Uygur autonomous region, home of the terrorists who launched in May the deadly attack in the regional capital Urumqi, alerted police to 23 terrorism-related cases between May 23 and June 30, China News Service reported on Wednesday.
The residents of the county in Hotan prefecture were furious that the terrorists damaged their reputation - a report about the attack called the county the "hometown of the terrorists". They resolved to help authorities find any suspected terrorists in villages and even in the deserts since Xinjiang launched a one-year campaign on May 23 to root out terrorism, local police said.
Pishan residents are not afraid of confronting suspects, said Yin Zetao, director of the Pishan public security bureau.
In May, villagers from Sangzhu township became suspicious of three strangers wandering around. They confronted the men, who pulled out knives to attack the villagers. The villagers overpowered the men and seized their weapons as well as 12 explosives hidden in their clothes.
In another incident, a young villager called the police when he noticed someone on a bus watching terrorist videos on his cellphone.
The county has disbursed 800,000 yuan ($128,800) in rewards to tip-givers who provided valuable leads on terrorist activities since the anti-terrorism campaign began.
The terrorist attack in Urumqi on May 22, in which 39 people were killed, was Xinjiang's bloodiest day in five years. Saturday is the fifth anniversary of the July 5 riot in Urumqi, which left 197 dead in 2009.
Police said four terrorists in the attack in May drove two vehicles without license plates through roadside fences and indiscriminately ran over shoppers. The vehicles were driven at very high speeds and explosives were thrown and detonated among the crowd of about 5,000. Both vehicles then exploded, killing all four people inside. More than 94 people were injured.
A suspect who allegedly helped plot the attack was caught later in Xinjiang's Ba-yinguoleng Mongolian autonomous prefecture. Police said the five members of the terrorist cell formed at the end of 2013 were from Pishan and had long been influenced by religious extremism.
Yin said most of the terrorist cases in Pishan during the past three years have been prevented at the planning stage.
cuijia@chinadaily.com.cn