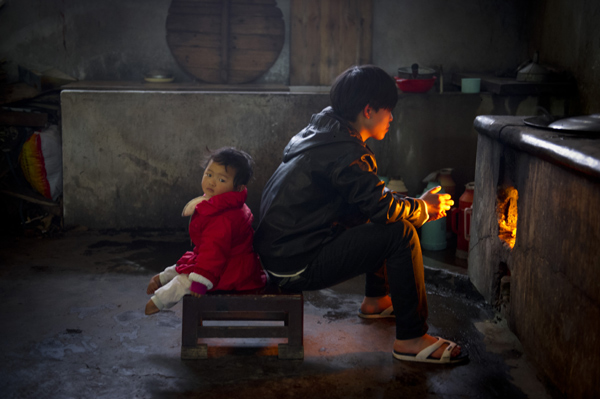 Shi Rutong (left), 3, and Da Di, who are both orphans, warm themselves by a stove in the kitchen of Zifeng Temple in Jieyang, Guangdong province, on Saturday. [Sun Junbin/For China Daily]
BEIJING -- Nearly 60,000 Chinese orphans received free health insurance contracts on Friday as a gift for the upcoming Children's Day.
Under a joint insurance program supported by the Ministry of Civil Affairs and the China Children Insurance Foundation (CCIF), the insured will be covered for the cost of treating 12 critical illnesses.
The latest beneficiaries are from Qinghai, Henan, Beijing, Tianjin and north China's Inner Mongolia Autonomous Region. Of those covered, 4,659 orphans from Inner Mongolia were covered for the first time by the charity program.
The program has given more than 930,000 insurance contracts to children in 20 provinces and regions, according to a CCIF official, who said each insured child is covered for 100,000 yuan (16,000 U.S. dollars) at a premium of 50 yuan a year to cover the cost of treating 12 critical illnesses, including malignant tumors and conditions requiring organ or stem cell transplants.
An insurance fund created through donations will be accessible for one year starting on June 1.
The program was launched in 2009. Insurance contracts have also been donated to children whose families have financial difficulties.
Insured children will be notified about their coverage by local civil affairs departments, which will act on behalf of the CCIF in distributing specially designed insurance cards.
To guarantee transparency in the insurance program's operation and management, all donation information can be checked and verified online at baoxian.cctf.org.cn, a website hosted by the China Children and Teenagers' Fund, the parent foundation of the CCIF.