Around 2,000 years ago, caravans of camels carrying goods followed specific routes acrossEurasia, overcoming deserts and mountains and linking the continent's east and west sides with silk, jewelry and spice.

Now the journey's eastern destination, the world's second largest economy, is devoting itself to rejuvenating the ancient route named the Silk Road and bringing economic impetus to countries along the path.

The Silk Road is a series of routes for trade and cultural exchange connectingChina and European countriessince around 100 BC, with central Asia as the intermediate station. The route became prosperous in China's Tang Dynasty, the capital of which, Chang'an (today known as Xi'an), was opening up and hosted envoys from over 70 countries, foreign merchants and overseas students.

Related:Modern merchants follow famous footsteps
ROAD OF TRADE AND CULTURE
NAME:The Silk Road was named after the lucrative trade in Chinese silk.
HISTORY:Form the 2nd century BC to 16th century
ROUTE AND LENGTH:The major route was more than 7,000km, from present day Xi'an to the Mediterranean Sea.
CHINESE IMPORTS ALONG THE ROAD:Spices, furs, leather, jewelry, timepieces, glass products, carrots, grapes, cucumbers, other plants and birds.
CHINESE EXPORTS ALONG THE ROAD:Silk, artworks, porcelain,goldwares, mirrors, tea and luxury goods.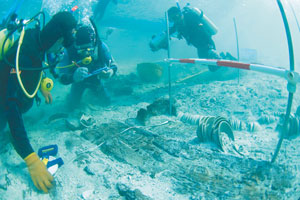 The Marine Silk Road, like the ancient Silk Road that connected China with south, west and central Asia and Europe, was also a bridge for connecting Eastern and Western cultures.
With the excavation of the wreck of an ancient Chinese merchant ship, archaeologists expect to find a trove of historical relics, unveiling more details of theMaritimeSilk Road.
First discovered in 1987 off the coast near Yangjiang, Nanhai No 1 dates back to the Southern Song Dynasty in the 13th century and is recognized as one of the oldest and biggest merchant boats ever sunk in Chinese waters.>>
 Related:Fuzhou's Maritime Silk Road to receive 10 billion yuan