Silk Road to take on a new look
Updated: 2013-09-10 23:22
By Li Xiaokun and Zhang Yuwei (China Daily)
Experts call to set up free trade zone to cover China and Eurasian countries
President Xi Jinping's proposal to build a "Silk Road Economic Belt" is a huge economic opportunity for the region, observers said.
To realize the goal, which Xi made in his first formal policy speech on Central Asia, they suggested a free trade zone that includes China and Eurasian countries, which have a combined population of 3 billion.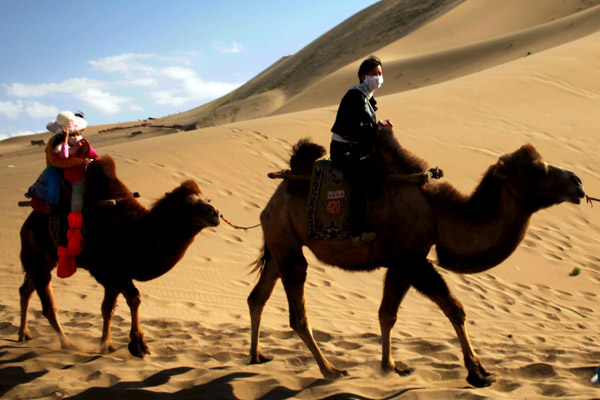 Feng Xiuxia / China Daily
In a speech at Kazakhstan's Nazarbayev University on Saturday, Xi proposed establishing a Silk Road Economic Belt, similar to the original, ancient Silk Road of more than 2,000 years ago, to boost cooperation between China and Eurasian countries.
The regional cooperation structure, Xi said, can be set up through "strengthening policy communications, road connections, trade facilitation, currency circulation and people-to-people exchanges".
"My home, Shaanxi province, is the start of the ancient Silk Road," Xi said.
He said he was moved as he reviewed the Silk Road's history during his visit to Kazakhstan, a modern nation on the ancient commercial road.
The Silk Road boasts a population of 3 billion and a market that is unparalleled both in scale and potential, Xi said.
He also said that Beijing considers relations with Central Asian countries a foreign-policy priority.
Ann Lee, author of What the US Can Learn from China and an adjunct professor of economics and finance at New York University, said she believes "Xi is correct as seeing the Silk Road as a huge economic opportunity".
"Now that border issues with Russia are more or less resolved in Central Asia, there are very few barriers left to overcome for serious development and investment."
Jon Taylor, a professor of political science at the University of St. Thomas in Houston, Texas, said that given China's strategy of developing its western regions, it is logical to extend the policy into Central Asia by strengthening relations with China's western neighbors for economic and security reasons.
"Proposing a new Silk Road is a strategic necessity for China. As a great power, China has to protect its vital economic interests and political influence in the region. The new Silk Road proposal does that.
"As President Xi has said, it's a 'win-win' proposal. Why not encourage a free trade zone that encompasses 3 billion people, has tremendous mineral and energy resources, and access to both Europe and the Middle East? "
Nazari Pariani, editor-in-chief of Mandegar Daily, a leading Afghan newspaper, told Xinhua News Agency that China's new policy to build the economic belt would benefit the whole region.
"Since Afghanistan is in Central Asia and is a neighbor of China, it can enormously benefit from China's new Central Asia policy," Pariani said.
"Since the Silk Road passes through Afghanistan, the revival of its historic position can help Afghanistan act as a bridge between Central, East and South Asia."
He added that his country can play a significant role in enhancing trade and economic cooperation in the region.
"Our region, as President Xi mentioned in his speech, is home to 3 billion people, more than the population of Europe. No doubt the countries in the region can create a huge market for their products, unparalleled both in scale and potential, which creates a conducive investment environment and job opportunities for their people and will eventually reduce poverty in our region," he said.
Inamul Haque, chairman of the Institute of Strategic Studies Islamabad, said Xi's proposal suggested that China will play a bigger role in boosting the development of Central Asia.
"The construction of the economic belt will be a driving force for the economic development of the region, especially for landlocked countries," he said.
Xu Qinhua, deputy head of Central Asian studies at the School of International Relations at Renmin University of China, said close cooperation between China and energy-rich Central Asia will ensure energy security for both sides, and win international support for each other's diplomatic efforts.
"For China, the more important thing is that it will help forge stable and friendly frontiers in its northwest, which will provide strategic support for China's development.
"Similarly, because of its special location, huge energy reserves as well as ethnic, cultural and religious diversity, political and economic security of Central Asia is inseparable from China."
Zhang Lili, an expert on Chinese diplomacy with China Foreign Affairs University, said Xi's speech not only presented the idea of the economic belt but also comprehensively introduces his administration's Central Asia policies.