Ties with Kyrgyzstan upgraded
Updated: 2013-09-12 02:27
By Wu Jiao in Bishkek and Li Xiaokun in Beijing (China Daily)
Strategic partnerships established with all five Central Asian nations
China and Kyrgyzstan agreed on Wednesday to upgrade their ties to a strategic partnership and also to increase cooperation on security issues.
The upgrade means China has established strategic partnerships with all five Central Asian nations, paving the way for consolidated security and economic cooperation between Beijing and the neighboring region in the future.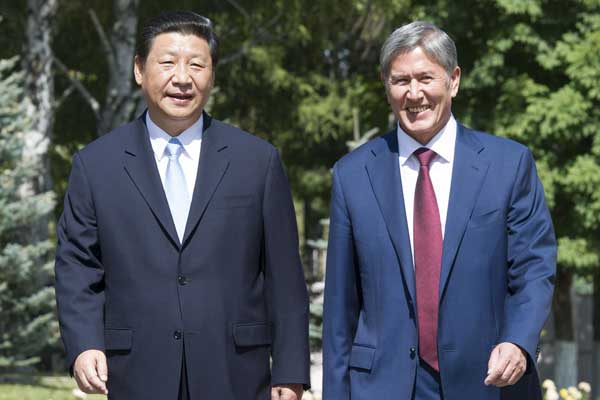 President Xi Jinping meets his Kyrgyz counterpart Almazbek Atambaev in Kyrgyzstan's capital Bishkek on Wednesday. Both leaders pledged to upgrade bilateral economic cooperation and achieve common development based on the principle of equality and mutual benefit. PHOTO BY huang jingwen / xinhua 
President Xi Jinping and his Kyrgyz counterpart, Almazbek Atambaev, announced the upgrade in ties after a meeting. Xi arrived in Bishkek late on Tuesday for his first state visit there and to attend a Shanghai Cooperation Organization summit. This is the last stop of his first Central Asian trip, which had taken him to Turkmenistan, Kazakhstan and Uzbekistan.
During their meeting, Xi said the upgrade in bilateral ties marks a new milestone in Sino-Kyrgyz relations.
"We have common ideals and face the same challenges," Xi said while meeting reporters after talks with Atambaev. Aside from political and economic cooperation, Xi said, the two countries should maintain close coordination on security issues.
The Central Asian country with a population of 5.6 million borders the Xinjiang Uygur autonomous region. Some of the terrorists groups in Kyrgyzstan are connected with terrorist forces in Xinjiang.
Atambaev said while meeting the press Wednesday that "Kyrgyzstan and China will keep close cooperation in security sector, and continue their collaboration in combating the 'three evil forces'".
Atambaev told reporters ahead of Xi's visit that at the upcoming Shanghai Cooperation Organization summit, leaders will exchange views on combating the "three evil forces" of terrorism, extremism and separatism, and drug trafficking and arms smuggling.
Xinhua News Agency on Wednesday quoted a Kyrgyz diplomat as saying that combating the "three evil forces" will be a priority of bilateral cooperation.
Jiang Yi, deputy head of the Institute of Russian, East European and Central Asian Studies, under the Chinese Academy of Social Sciences, said combating the "three evil forces" now serves as a vital part of successful bilateral cooperation.
During the meeting, Atambaev also said that he "fully supports President Xi Jinping's proposal to forge a Silk Road economic belt", adding he expects fruitful progress in the economic belt in the near future.
In a speech at Kazakhstan's Nazarbayev University on Saturday, Xi proposed establishing the economic belt, similar to the original, ancient Silk Road of more than 2,000 years ago, to boost cooperation between China and Eurasian countries, which have a combined population of 3 billion.