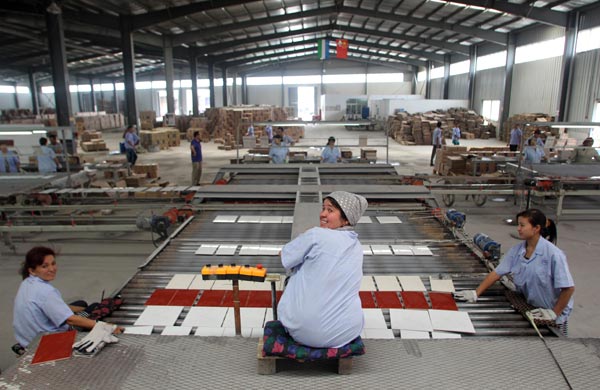 Employees produce ceramic tiles at Pengsheng Industrial Park, located 70 km from Tashkent, the capital of Uzbekistan. The Central Asian nation began seeking foreign investment in 2009 and has attracted a number of Chinese companies eyeing the region's markets. [Photo/China Daily]
More Chinese companies are seeing opportunities brought by the opening up of Uzbekistan to set up businesses in the Central Asian nation, making it easier to expand their trade in the region and to Europe.
"By setting up a factory in Uzbekistan, we reduced the cost of our products by about 50 percent compared with sending them from China by train," said Zhou Jiaqiang, who manages a ceramic tile factory 70 km from Tashkent, the Uzbek capital.
He said that as Uzbekistan's economy develops and people's livelihood improve, construction materials are in high demand.
Zhou is planning to add a production line this year to cope with the growing market in Uzbekistan. He also wants to sell to neighboring Kazakhstan, Kyrgyzstan and eventually to European countries.
Zhou's company is based in Pengsheng Industrial Park, which was established by a Chinese company and an Uzbek mining firm in 2009.