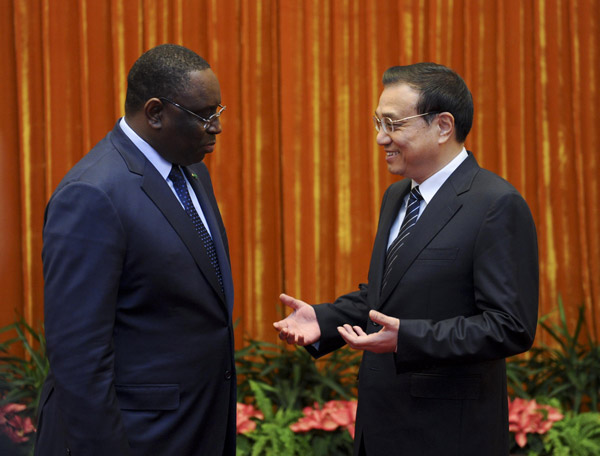 Chinese Premier Li Keqiang talks to Senegal President Macky sall during a meeting at the Great Hall of the People in Beijing February 21, 2014. [Photo/Xinhua]
BEIJING - Chinese Premier Li Keqiang on Friday met with Senegalese President Macky Sall, pledging to invigorate the two nations' relationship.
Li commended the sound development of bilateral ties, noting the two countries have achieved results in building a long-term friendly and cooperative partnership.
"China is willing to increase mutual political trust, promote trade and investment and enhance cooperation with Senegal on infrastructure construction and expertise sectors in a bid to inject vigor into the bilateral friendship and set an example for cooperation between China and west African countries," Li said.
Li noted that China and African countries have worked together over the past half century and developed a precious relationship and cooperation characterized by equality, mutual benefit and tolerance.
China's further opening up and reform have created opportunities for Africa, he said, adding that China has the ability to produce technical equipment with high quality and low cost while African countries enjoy vast markets and labor advantages.
China will continue to support Africa to achieve independent development, provide assistance for reducing African poverty and promote peace and stability as well as prosperity for the continent, Li said.
Sall said Senegal hopes to further expand cooperation with China in all fields and welcomes Chinese companies to participate in his country's major development projects.
Senegal will make unremitting efforts in advancing Africa-China relationship, Sall added.