BEIJING - China's meteorological authority forecast on Friday that a cold front will bring strong winds and temperature drops to most parts of China in next few days.
The National Meteorological Center (NMC) warned that the cold front will move fast and affect a vast region across China, and people should take precautions against possible diseases, such as influenza.
From Friday to Saturday, temperatures will drop by 4 to 8 degrees Celsius in most parts of north China, the southeast of northeastern China, regions along the Yellow and Huaihe rivers, as well as most regions in south China.
Some regions will see temperatures drop by up to 10 degrees Celsius, the center said.
Affected by the cold front, there will be only light rain in some southern parts of the country in the next two days.
On Sunday, the southern end of the Yangtze River and central and northern parts of south China will experience moderate to heavy rain, according to the NMC.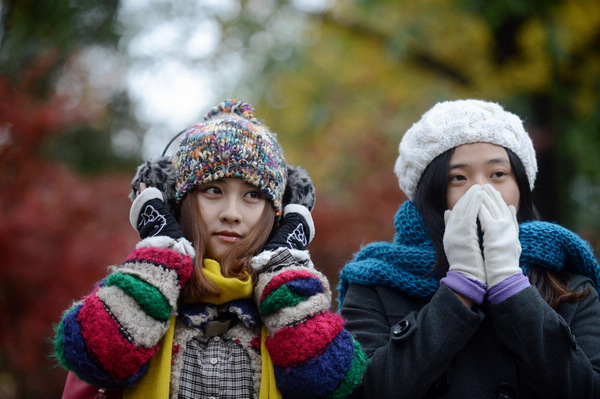 Two young women cover their faces to protect themselves from the bitter cold weather in Yangzhou, East China's Jiangsu province on Nov 22. Most regions across China will experience strong cold front with winds and a temperature drop of 6 to 8 degrees Celsius. It is predicted the cold weather will last for 2 days. Meteorological experts warned people to pay attention to weather forecasts and prevent against the cold snap. [Photo/Xinhua]