A replica of an ancient pavilion in Hangzhou, Zhejiang province, collapsed during a storm on Wednesday, the second such incident in several weeks, prompting concerns over safety.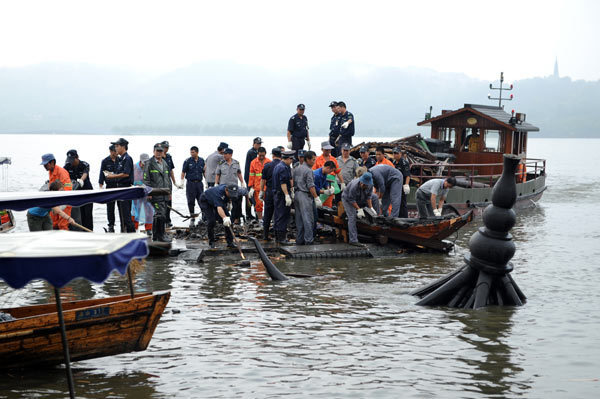 Staff workers of the West Lake Scenic Area clean up the debris of the collapsed Jixian Pavilion in Hangzhou, East China's Zhejiang province, on Wednesday. Ju Huanzong / Xinhua
Jixian Pavilion collapsed about 1:20 pm, according to the city's fire service. No injuries were reported.
The pavilion was constructed in 2002 and modeled after a structure built during the Qing Dynasty (1644-1911) in a scenic spot. It stood on an island in the West Lake, connected to the bank by a bridge.
Calls to the lake's management committee went unanswered on Wednesday, although some media quoted the committee as saying a thunderstorm caused the collapse.
The Hangzhou meteorological station issued a thunderstorm warning around 1:30 pm on Wednesday.
"When I arrived at the scene in the afternoon it was cordoned off, and many people were gathered outside the line," said Li Zhong, a photographer in Hangzhou.
"Most of the roof had fallen into the water, and the four wood pillars of the pavilion broke in the middle, but its concrete foundation remained largely intact," he said. "Dozens of workers were on site, with several boats on the water."
Li said he suspected strong winds and heavy rains caused the collapse.
"Heavy rain started after noon accompanied by strong winds," he said. "The pavilion is in the middle of the water, dozens of meters from the bank, so I think it must have suffered strong winds."
Zhou Gang, an architecture professor at Xi'an University of Architecture and Technology, said there may have been other factors besides the severe weather that caused the building to collapse.
"Any building properly designed and built should be able to withstand unpredicted weather in most cases," he said. "Many factors, including materials used, structure and style of the building, can affect its stability."
Zhou said by checking the breaking points of the pavilion it is easy to assess the building's construction quality.
Rules and standards for the design and construction of buildings imitating ancient buildings are inadequate, Zhou said.
"We have a complete set of rules and standards for civil buildings, but those for structures imitating ancient buildings need improvement."
In a similar accident in August, two people were killed and another person was injured when an arch, built in October 2001, collapsed on a popular tourism attraction in Qinghefang Street, in the center of Hangzhou and close to West Lake. The arch was built in the style of the Song Dynasty (960-1279), when Hangzhou was the capital of the dynasty.
"I think the government should do more to prevent such accidents from happening rather than keep themselves busy after an accident happens," said Zhao Cheng, a college teacher in Hangzhou.
Shi Yingying in Shanghai and Zhou Yiyi in Hangzhou contributed to this story.
Contact the writer at wangxiaodong@chinadaily.com.cn