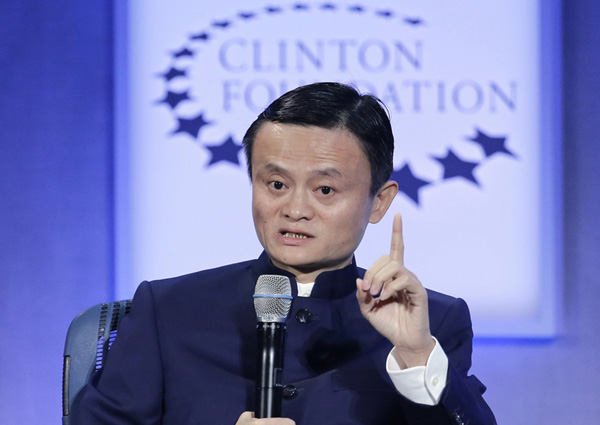 Jack Ma, founder of Alibaba, speaks at the Clinton Global Initiative in a session in New York, Sept 23, 2014. [Photo/IC]
Alibaba even gets the romance rolling by arranging internal matchmaking events, according to the Alibaba spokesperson.
Employees are also encouraged to give their families a tour of their workplace. The tradition started in 2003, when most of Alibaba's staff was quarantined in the company's Hangzhou headquarters after one of them had been diagnosed with SARS and nearly died.
"Work happily and live each day seriously" is a well-known motto at Alibaba. Colleagues with shared hobbies, such as swimming, movies, tai chi or gardening, can set up clubs and hang out together after work.
Alibaba also created its own mortgage fund called "iHome" in 2011. The program offers employees interest-free loans for property down payments. The amount is up to 200,000 to 300,000 yuan ($32,570 to $48,855) per person, according to an internal source.
As the e-commerce behemoth, which now outsells Amazon and eBay combined, completed launched the biggest IPO in history, its current and former employees offered their own assessment.
For those who spoke to China Daily Online, the stock offering will enable Ma to reward his workers as well as bankroll the company's expansion.
According to a source at the company, employees usually acquire stock over four years. At first, they earn shares but not under their name. After two years, they are able to access 50 percent, and in two more years they receive the remaining 50 percent.
Yet, success comes amid concerns, and the longevity of Alibaba's corporate culture is a major one.
"The capital market can be ruthless with share price dropping sharply in response to a bad quarter. Alibaba could suffer talent loss when a wider range of shareholders interfere with the management team," said Zhang.
He added that senior Alibaba employees who take the opportunity to "cash out" may also quit and start a new chapter of life.
Li was more blunt: "I really hope former employees do better than just buying yachts and enjoying life. I hope they carry out Jack Ma's dream and act in our different positions as shining stars within the industry."
He added that Alibaba is now much more open to departures as well as mergers and acquisitions.
"Fifteen years ago, Alibaba workers would call those who left for rival companies traitors, but now we can sit and chat as friends. I hope Alibaba will be more and more open. It will be good for the whole industry."