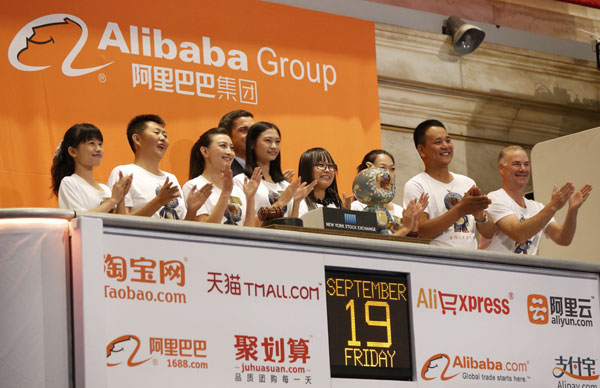 Alibaba representatives applaud as the opening bell of the New York Stock Exchange is rung, before the IPO of Alibaba Group Holding Ltd on Sept 19.LUCAS JACKSON/REUTERS
Hangzhou's golden calling card continues to inspire, draw crowds
As night fell about 6 o'clock and the streets of downtown Hangzhou filled with workers rushing off to enjoy their weekends, the dampener to proceedings was persistent light rain that made negotiating the traffic jams a little more perilous.
Twelve kilometers to the west the streets around Alibaba Group Holding Ltd's headquarters were all but deserted on this Sept 19 night, many of the company's 20,000 staff sitting or standing in front of a giant television screen inside waiting to witness the big moment.
At 9:30 pm that day, 9:30 am in New York, Alibaba's IPO would be launched on the stock exchange there. But at times it may have been hard for the few braving the rain outside to know whether they were in Hangzhou or New York. Alibaba's main entrance had been decked up to look like the gates of the New York Stock Exchange, a replica of Wall Street's famed bronze bull had been corralled to stand guard for the occasion, and all the signs that should say "Wangshang Lu, Hangzhou", seemed to be saying "Wall Street, Manhattan".
Inside, work had taken a back seat, and the mood was festive, with cheers ascending periodically, selfies being taken by the hundreds and the uniform of the day being T-shirts with messages referring to the IPO.
At 8:30 pm, with an hour to go before the big moment, the company's chairman, Jack Ma, and two other executives appeared on the television screen. This, he told them, was a day to remember.
"What we get today is not money, but trust. Without your trust, without your families' trust, we would not have achieved this."
Ma's words from New York brought many to tears.
At 9:30 am in New York, eight Alibaba faithful flown in for the occasion, including sellers and buyers, rang the stock exchange's opening bell, and fireworks shot up into Hangzhous' wet skies. At company headquarters, celebrations went into overdrive, foreshadowing a sleepless night for many.
Zhou Xirui, an employee of the company's marketing department, says the biggest fortune that Alibaba had given her was a dream.
"He (Jack Ma) is the best dream seller. Working in the company has made me dare to dream, and today's IPO proves that our dreams are being realized."
On the front of her T-shirt were the words "We still need dreams" and on the back "What if they come true?"
IPO fever was being felt all around Hangzhou. Seconds after the launch, the municipal government congratulated Ma, saying Alibaba was the pride of the city and its people, and the company had become a golden calling card for Hangzhou.
For many Alibaba employees, pride and the IPO success were gilded by the fact that it had turned them into millionaires.