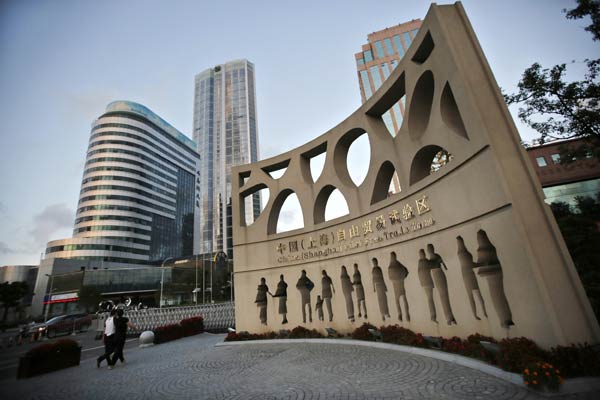 The entrance to the China (Shanghai) Pilot Free Trade Zone in Pudong New Area in Shanghai. The FTZ is under official and third-party evaluations before its first anniversary. [Photo/Agencies]
BEIJING - The Chinese government will lift restrictions on foreign investment for 27 businesses, from green tea to civil airplane engines, in the China (Shanghai) Pilot Free Trade Zone (Shanghai FTZ).
The Shanghai FTZ will be temporarily exempt from restrictions on foreign investment in businesses like shipping, automobile, civil aviation and infrastructure development, according to a State Council statement published on Sunday.
A Foreign investors' stake in a joint venture shipping agency in Shanghai FTZ is allowed to exceed 51 percent, according to the statement. The current national regulation caps it at 49 percent.
Foreign investors are allowed to set up solely-owned firms in Shanghai FTZ for cargo handling and management of container yards. The current regulation only allows Chinese-foreign joint ventures.
A number of restrictive articles in the country's foreign investment guidance catalog are also adjusted in the Shanghai FTZ.
Solely-owned foreign firms in the Shanghai FTZ will be allowed in sectors that are only open to joint ventures nationwide, such as research and development of facilities for high-speed railways, passenger trains and inter-city rails, designing yachts and luxury liners, as well as development and manufacture of parts of civil airplane engines.
They are also allowed in constructing and managing local railways and ferries as well as bridges and tunnels attached to these projects.
Foreign firms are banned from producing traditional Chinese tea. In Shanghai FTZ they can engage in the business through a joint venture with Chinese firms.
Some 12,000 firms have been established in the Shanghai FTZ since its launch in late September last year.
The 29-square-km zone in the Chinese financial hub has promised free trade, greater financial opening and fewer government controls in business activities.