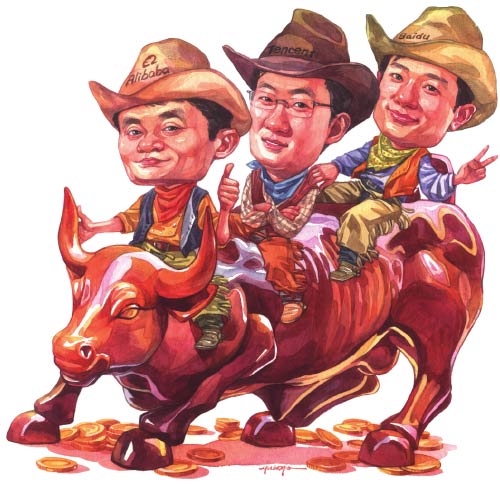 LI MIN/CHINA DAILY
Alibaba's success in New York IPO brings new hope to other companies
A few hours before Alibaba Group Holding Ltd made its debut on the New York Stock Exchange, Jack Ma, the company's founder and chairman, said Sept 19 would be a "life-changing day" for its 20,000 employees.
That day the Hangzhou-based e-commerce conglomerate raised more than $25 billion in the largest IPO in history, instantly making thousands of the company's employees fabulously rich. The market capitalization on the first day of its trading exceeded $200 billion - more than that of Amazon.com Inc and eBay Inc combined - and stock incentives Alibaba offers its employees mean that there is $44.8 billion to divvy up between 11,000 of them. Each of the more than 300 people in senior positions is now worth more than 100 million yuan ($16.3 million).
The 500,000 yuan Ma and 17 other partners invested 15 years ago has made the 50-year-old China's richest individual, with a net worth of $21.8 billion, according to the Bloomberg Billionaires Index. The Hurun China Rich List published on Wednesday calculated his wealth to be higher than that, at $25 billion.
Whatever the true figure, those lists serve to underscore not only Ma's growing wealth but also the fact that the top ranks of Chinese wealthy are beginning to swell with those who have become rich through Internet-related businesses.
Pony Ma, the founder of Tencent Holdings Ltd, the Shenzhen-based giant well known for its mobile messaging app WeChat, and Robin Li, founder of China's largest search engine, Baidu Inc, rank second- and third-richest individuals in the world's second-largest economy.
The Internet is thus proving to be a breeding ground for China's next generation of billionaires.
Justin Ren, associate professor of operations and technology management at Boston University School of Management, says two major factors are behind the phenomenon.
"The first is China's rapid growth. As its share of global GDP grows, its richest billionaires will rank higher and higher on the global list. The second is the explosive growth of the Internet economy in China. As its share of the economy grows, it will spawn ever more billionaires."
According to a recent study by McKinsey Global Institute, the business and economics research arm of global consulting firm McKinsey & Co, the Internet sector could add 0.3 to 1 percentage point to China's GDP growth every year until 2025.
This could fuel about 7 to 22 percent of the incremental GDP growth until then, translating into 4 trillion yuan to 14 trillion yuan in China's annual GDP by that point.
What is happening with wealth creation through the Internet is not confined to China, experts say. The same thing has happened in Western countries, Ren says.
"In the US, for example, the richest people used to be from 'old industries' such as automotive, banking, oil or steel. Then along came Bill Gates, who became a billionaire in less than 20 years after founding Microsoft Corp. After that, Mark Zuckerberg made the list less than 10 years after he set up Facebook Inc.