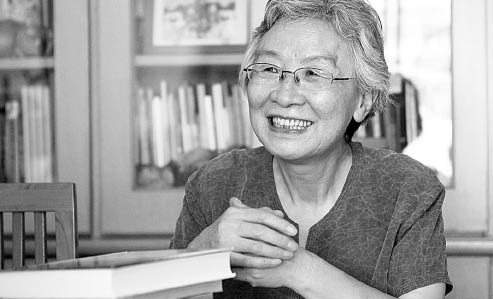 Wang Xiaoye says the competition law was vital for the transformation of the Chinese economy. ZOU HONG/CHINA DAILY
Wang Xiaoye, one of China's leading experts on competition law, says foreign companies that feel wrongly accused of antitrust behavior need to take their cases to Chinese courts.
Chinese investigators have descended on Microsoft, Mercedes, Audi, BMW and Japanese auto part makers in a wave of high-profile cases over recent weeks.
Most so far have been prepared to accept fines from the authorities, rather than to appeal their cases in the courts, and some have expressed fears privately that they will not get a fair hearing.
"If they feel confident that everything they have done is right and they have not violated the law then I do hope they bring their cases to the courts," she says.
"I think it is very important that for the law to operate properly these cases are tested in the courts. The law is new here and we need test cases."
The 65-year-old professor of law at the Institute of Law at the Chinese Academy of Social Sciences in Beijing, is perhaps China's foremost expert on competition law.
She was involved in the drafting process of China's antitrust laws, which came into force in 2008 and which companies are now falling foul of.
Since investigators descended on the headquarters of Mercedes in Shanghai last month, heralding a series of other probes, she has been at the center of a media frenzy.
She has been in demand from business TV channels, the Wall Street Journal and others seeking her perspective.
"There have been so many cases on monopoly law and I am always doing interviews these days" she says.
Wang was speaking over pu'er tea in the relative retreat of her modest apartment near Panjiayuan market in Beijing's Chaoyang district, which she shares with her husband Tao Zhenghua, also a law professor, and her 91-year-old mother.
She says she has been frustrated in the past by foreign companies backing away from confrontation, particularly when the Ministry of Commerce blocked Coca-Cola' Co's planned $2.4 billion takeover of juice maker China Huiyuan Juice Group Co Ltd in 2009.
"At the time I hoped very much it would go to court. Both the parties did not want to do this. If they had gone to court a decision could have been made as to whether the ministry was correct."
Foreign business organizations in China have expressed concern about recent moves. The European Chamber of Commerce in China said in a statement that "tactics are being used to impel companies to accept punishments and remedies without full hearings".
Wang, who is clearly passionate about her subject, is keen to get across that there is nothing alien or unique about Chinese competition law, which came into force six years ago.
She says it is largely modeled on European Union law and is less draconian than in other jurisdictions, particularly the United States, where offenders can go to jail and often do, since it is a violation of criminal law. Like in the EU, China's anti-monopoly law is just civil.
"People have this idea the Chinese authorities are operating in a vacuum. Yet the Chinese anti-monopoly agencies are often going to Europe and the US and attending seminars and conferences. Chinese officials are always at the US Bar Association Antitrust Law spring conference."
She also says the recent "dawn raids" on company premises are also the same practices followed in other jurisdictions.