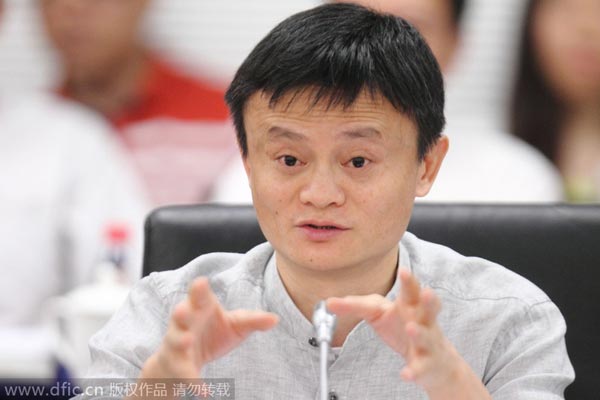 Jack Ma speaks during a meeting at the Taobao City, the new office park of Alibaba, in Hangzhou city, Zhejiang province, 27 May 2014. [Photo/China Daily]
Jack Ma is China's richest person. The 49-year-old founder and chairman of Alibaba Group Holding has a net worth of $21.8 billion, according to the Bloomberg Billionaires Index.
His assets include a 7.3 percent economic interest in China's largest e-commerce business, which is preparing for what could be the largest initial public offering in US history, and almost half of the parent of
Alipay
, a separate online-payment service that hadn't previously been included in his net worth calculation.
Ma is $5.5 billion richer than Ma Huateng, the founder of Tencent Holdings, China's largest Internet company by market value. Robin Li, the founder of search engine Baidu, ranks third in the world's second-largest economy.
"Wealth creation in China has been quite rapid, particularly among entrepreneurs such as Jack Ma who have created businesses that benefit from China's burgeoning middle class," said Tony Hsu, a portfolio manager at Dalton Investments in Shanghai.
Alibaba, which plans to sell shares on the New York Stock Exchange next month, may set its IPO value at $154 billion, according to the average estimate of five analysts surveyed by Bloomberg in July.
Ma owns 8.8 percent of the company. After subtracting the 1.5 percent controlled by SymAsia Foundation, his charitable organization, Ma's interest in the company is valued at $11.3 billion.
The same analysts said Alibaba's post-listing valuation could be as much as $200 billion.
Ma also owns 48.5 percent of Zhejiang Ant Small & Micro Financial, a closely held entity that operates the Alipay online-payment service. The company, based in Hangzhou, Zhejiang province, has a value of $25 billion, based on the average estimate of seven analysts surveyed by Bloomberg News.
Ma's stake in Small & Micro is expected to be diluted to no more than 8.9 percent in three to five years through selling new shares or distributing stock to employees, the company said in an Aug 12 filing with the US Securities and Exchange Commission.
Ma won't realize any economic benefit from these transactions, the filing said.
Top billionaires in Chinese mainland
1 Jack Ma, Alibaba:$21.8 billion
2 Ma Huateng, Tencent:$16.3 billion
3 Robin Li, Baidu:$15.8 billion
4 Wang Jianlin, Dalian Wanda: $14.7 billion
5 Zong Qinghou, Wahaha Group: $11.5 billion