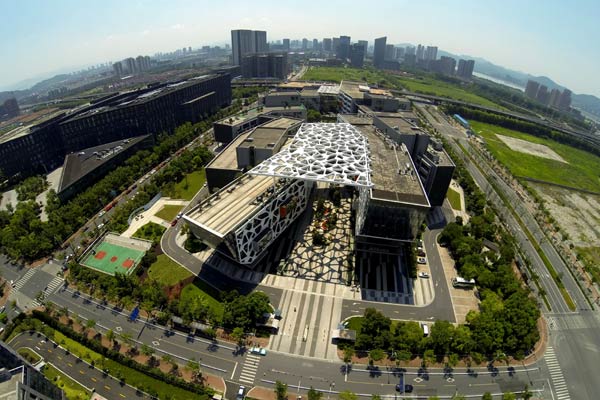 A bird's-eye view of the Hangzhou-based Alibaba Group Holding Ltd compound. The company has been in discussions with the US Securities and Exchange Commission as it seeks regulatory approval for its IPO. It originally had targeted an early August trading debut. [LIANG ZHEN/CHINA DAILY]
Players of one of the two games offered on Alibaba Group Holding Ltd's instant messaging service have been finding movies of themselves being posted on China's most popular online video site, a possible setback for the e-commerce giant's attempt to turn its mobile chatting app into a game distributor.
Videos of people playing the charades-like game Feng Kuang Laiwang have appeared on Youku Tudou Inc's website. Many of the estimated 35,000 videos show users in their underwear or naked while playing the game at home with family or friends.
Game developer Hortor Software and game operator Zhejiang Zhile Network Co issued a joint statement on their official Weibo accounts on Tuesday night, apologizing for their failure to notify users that videos of them playing the game would be posted online.
The guessing game, which is distributed through Alibaba's Laiwang, a mobile chatting app, records players as one person holds up a mobile device displaying words and others use gestures to provide clues to an answer.
Players can then choose to share the videos via different online social networks.
But because they did not know that the game developer was storing the files on Youku Tudou to enable them to share online, many of the players were dressed rather "casually" when caught on camera.
The videos have since been deleted by Youku Tudou.
Alibaba made no comment on the incident.
But users don't seem ready to forgive the game developer, judging by the angry comments being posted on its official Weibo account.
Xue Yongfeng, an analyst with Beijing-based research firm Analysys International, said the incident, "obviously a design defect", won't affect Alibaba's expansion into the mobile gaming industry as a whole, but it may hurt Laiwang's potential to become a game distribution channel.
The US-listed Alibaba Group launched a mobile gaming platform in January after seeing two of its rivals—Tencent Holdings Ltd and Baidu Inc—making lucrative advances into the sector.
Tencent is a major player with its mobile chat app WeChat, which has more than 400 million registered users and is a key game-distribution channel in China.
Alibaba has tried to promote Laiwang, which shares features of WeChat, but the app has shown little signs of challenging WeChat's dominant market share.
Xue said Laiwang's registered user base is in the tens of millions. "With such a small user base, it can hardly bring enough traffic as a qualified game distribution channel," he said, adding that the video incident may further dent Alibaba Group's confidence in the app.
According to Xue, Alibaba will keep leveraging its user advantages in mobile Taobao. "The purchase of UCWeb Inc, a mobile browser company, will also work well for Alibaba to further build its power in game distribution."
Bloomberg contributed to this story.