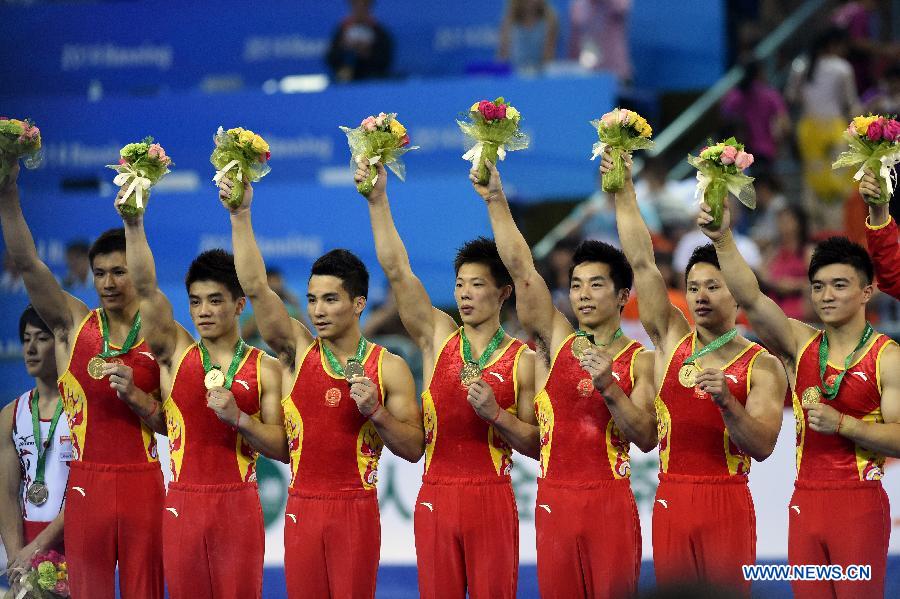 Chinese gymnasts pose on the podium during the awarding ceremony of the men's team finals of the 45th Gymnastics World Championships in Nanning, capital of South China's Guangxi Zhuang autonomous region, Oct 7, 2014. China won the title with a total of 273.369 points. [Photo/Xinhua]
NANNING -- China on Tuesday won the men' s team title of the 45th World Artistic Gymnastics Championships with a score of 273.369, edging Japan by just 0.1 point.
Chinese gymnast Zhang Chenglong, who made the final appearance in horizontal bar, finished a difficult set of performance with the score of 15.966, helping China to overtake Japan and win the men' s team final.
"I have been under great pressure, but I have been prepared for the difficult situation," said Zhang.
"Several days ago in the training hall I said I only did 80 per cent of what I can and I'll do 200 per cent when I am in the competition hall. Today I made it." said Zhang's teammate Lin Chaopan.
Yusuke Tanaka from Japan congratulated China by saying that the Chinese team undoubtedly gave the best performance on Tuesday, especially on horizontal bar.
Donnell Whittenburg of the United States said that they would never lose hope. "What I did was I didn't look at the scores, so I just tried to stay in my own zone, and that seemed to work out pretty well, so I'm pretty proud," he said.
The United States finished third at 270.369 points.