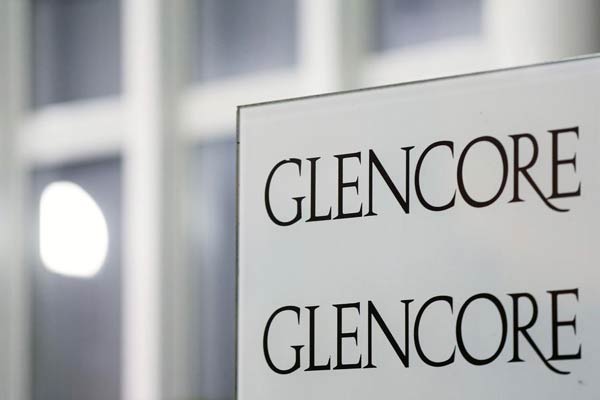 The logo of Glencore is pictured in front of the company's headquarters in the Swiss town of Baar, in this Nov 13, 2012 file photograph. [Photo/Agencies]
Swiss company seeks new options to push through ambitious proposal
Ivan Glasenberg, the chief executive of Switzerland-based mining company Glencore Plc, may need approval from Beijing for his ambitious plan to create the world's biggest mining company by merging Glencore with Rio Tinto Group, the Anglo-Australian metals and mining corporation.
With London-based Rio rejecting Glasenberg's July approach, Glencore went directly to Rio's biggest shareholder, State-owned Aluminum Corp of China, widely known as Chinalco. While the company's 9.8 percent stake is important in determining Rio's future, the view of its ultimate owner, the Chinese government, is even more crucial.
"The Rio Tinto board, after consultation with its financial and legal advisers, concluded unanimously that a combination was not in the best interests of Rio Tinto's shareholders," Rio Tinto said in a statement to the Australian stock exchange.
China, the world's biggest consumer of everything from iron ore to coal, has already flexed its muscle in dealmaking, as Glencore has witnessed firsthand. It has become a major player in influencing the outcomes of mergers through both its investments and its market power.
Glencore was required by China to sell its $5.85 billion Las Bambas copper mine as a condition of approving the company's takeover of Xstrata Ltd. Chinalco's 2008 raid on Rio Tinto was also pivotal in thwarting a takeover approach from BHP Billiton Ltd, the world's biggest mining company.
"They've tried to go through the front door with Rio, and they've been knocked back," Brenton Saunders, a Sydney-based analyst with BT Investment Management Ltd, said by phone. "Now they're trying to get on the side of the major shareholders. They would have learned hard lessons through the Xstrata deal."
Glencore views Chinalco, which has lost about $5 billion of its stake in Rio, as potentially supportive of a change in control after the Chinese company failed to secure a board seat at Rio and has seen little progress on a joint iron-ore project in Guinea, according to a person familiar with the matter. Glencore is also gauging the views of other Rio shareholders, and studying the tactical, financial and regulatory obstacles to the deal as it considers its next steps, according to people familiar with the matter.
Yuan Li, a Beijing-based spokesman at Chinalco, did not answer calls to his office line and mobile phone seeking comments on Tuesday, the last day of China's seven-day National Day holiday.
Evan Lucas, a market strategist in Melbourne at IG Ltd, said: "It is very savvy of Glencore to approach the Chinese State-owned enterprise and maybe offer them something that Rio was unable or unwilling to deliver. My major issue is what would China Inc say to Rio's iron ore assets going to a market trader who already has massive positions in coal, copper, zinc, nickel and other commodities?"