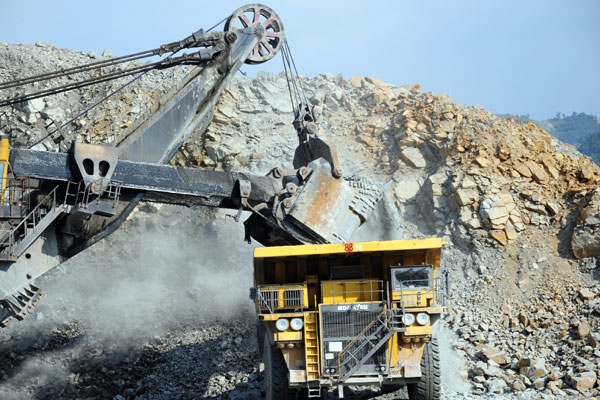 An open pit copper mine in Jiangxi province. China Minmetals is expected to become one of the 10 largest in the world once a Peru project it is purchasing part of is completed. Provided to CHINA DAILY
Peruvian purchase from Swiss firm 'has great strategic significance'
A Chinese consortium led by the State-owned metal and mineral trader and producer China Minmetals Corp is buying part of a copper mine in Peru from merged commodities and mining group Glencore Xstrata Plc for a reported $5.85 billion.
It will be the largest Chinese purchase of an overseas mining asset since 2008, when State-owned Aluminum Corp of China took a 12 percent stake in Anglo-Australian mining company Rio Tinto Plc for $14 billion, according to financial information firm Dealogic.
China Minmetals is expected to become the largest copper producer in China and one of the 10 largest in the world once the project is completed, according to its statement.
The deal "definitely has great strategic significance for China as a fast-developing country with a thirst for energy resources", said Lin Boqiang, director of the China Center for Energy Economics Research at
Xiamen
University.
Last year, Chinese mining and energy acquisitions abroad totaled $29.8 billion. They included China National Petroleum Corp's $4.2 billion purchase of an interest in an oilfield in Mozambique from Italy's ENI, Dealogic said.
"China has been actively seeking energy resources in the global market for five years," Lin said.
"Copper is one of the scarcest resources in China, and I do not think it is a bad time to hammer out this deal considering that the global economy is still relatively weak, and the copper price is not high now," Lin added.
Glencore, based in Switzerland, said in a news release on Sunday that the traded target is an interest in the Las Bambas copper mine in Peru and that payment would be in cash.