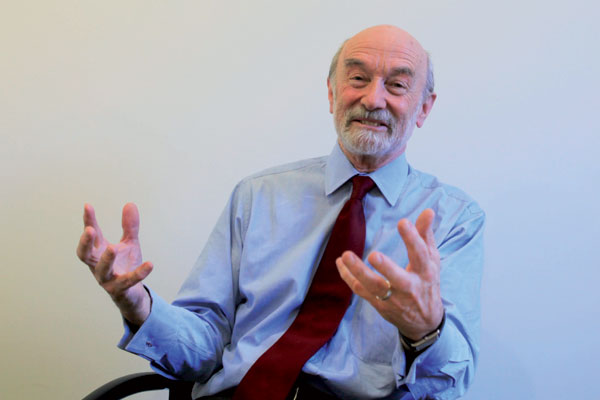 Mike Gregory says China should make good use of its advantages in manufacturing and build up design and technology innovation. Cecily Liu / China Daily
Manufacturing is an essential step but don't go too fast, says academic
Although the Chinese government has expressed its eagerness to transform China from being the world's manufacturing hub to a knowledge economy, it needs to tread carefully, a Cambridge University professor says.
Sir Mike Gregory, who heads the Institute for Manufacturing at the university says it is wrong to conceptualize the "knowledge economy" as a world without manufacturing, because manufacturing is an essential step in capturing value from ideas.
"I worry about the term knowledge economy because I think manufacturing requires a lot of knowledge. And I often say, 'I never see hands work if they're not connected to a brain,'" Gregory says.
Although China is now manufacturing heavily for international brands and capturing a relatively small portion of revenue, the manufacturing capability it builds up by doing so will enable indigenous brands to be truly great in the future, he says.
So China should correctly understand and use its unique advantages in manufacturing capabilities for now and build up design and technology innovation in the meantime, he says.
The idea of the knowledge economy dates back to 1966 when the Austria-born American management consultant Peter Drucker described in his book The Effective Executive the difference between manual workers, who work with their hands to produce goods and services, and knowledge workers, who work with their heads to produce more abstract things such as ideas.
But Gregory says such a distinction is a simple perception that needs to be challenged because ideas themselves will not capture value without manufacturing. He says countries such as the United Kingdom are now rethinking the differences between manufacturing and ideas, partly triggered by the financial crisis.
"The financial crisis has forced people to think, 'What went wrong there?' If we continue on these lines and commit the whole economy to just the service part, then you could be very vulnerable," he says.
As the country that once led the world's Industrial Revolution, Britain today has lost its manufacturing prowess. But Gregory points out that manufacturing in the broader sense still accounts for 60 to 70 percent of the country's exports.