China's yacht industry is expected to see 30 percent annual growth, with its market value projected to reach 15 billion yuan ($2.42 billion) in the next five years, predicts Fortune Character Institute.
However, the market is still quite small, says the Institute in its 2014 Yacht Report that will be released on April 10 in Shanghai.
In China, yachts worth 4.15 billion yuan were sold last year, with those with a price tag of less than two billion yuan accounting for 50.6 percent, according to the report.
But the industry is becoming popular and is now not limited to just the super rich, according to Zhou Ting, the report's lead researcher.
The market of luxury yachts for commercial use is expected to shrink while demand of small yachts for personal use will see growth.
China saw a 14 percent increase in the value of yachts imported last year, which totalled $ 250 million, but the average price at $65,500 per unit was down by 12 percent.
In addition to the report, the institute will also release the City Development Index for the Yacht Industry. With the benchmark score set at 100, the higher the score a city gets the bigger potential it has to develop the sector.
So, let's take a look at some of the cities that score high.
No 10 Suzhou
Suzhou, a beautiful water town in East China's Jiangsu province, has quite a long history of shipbuilding but only 10 years' experience of constructing yachts.
There are seven yacht building factories and two yacht clubs in the city now.
Suzhou, unlike coastal cities, has quite shallow waters and is therefore not suitable for large luxury yachts.
Suzhou scores 27.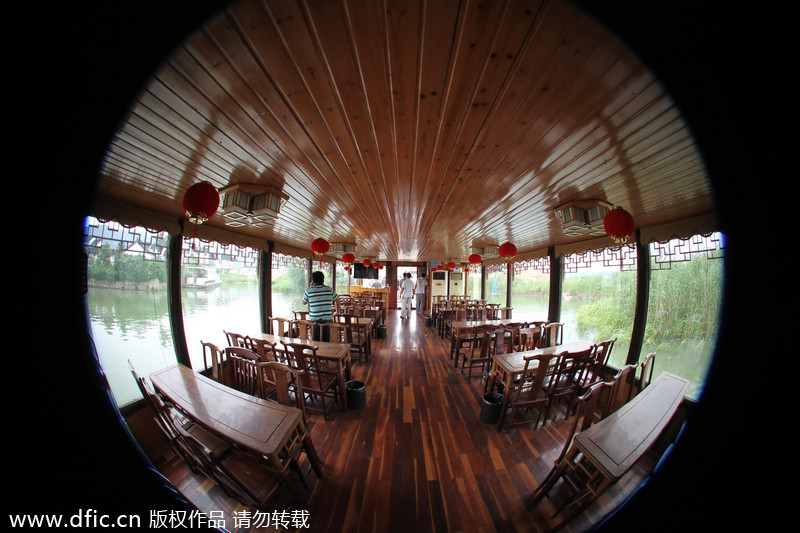 A gaily-decorated cruise boat, ready for a trial run, is docked at Shatanshan Pier along the Taihu Lake, Suzhou, East China's Jiangsu province, on May 31, 2013. [Photo/dfic.cn]