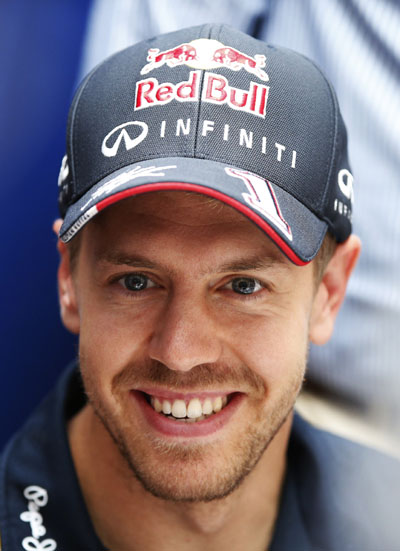 Red Bull Formula One driver Sebastian Vettel of Germany speaks to the media after the qualifying session of the Japanese F1 Grand Prix at the Suzuka Circuit October 4, 2014. [Photo/Agencies]
SUZUKA, Japan - Four-time defending Formula One champion Sebastian Vettel will leave Red Bull at the end of the season and is expected to soon announce a deal with Ferrari.
Vettel told Red Bull chief Christian Horner on Friday night that he intended to leave, and the team made the formal announcement on Saturday ahead of qualifying at the Japanese Grand Prix.
"After 15 very enjoyable and successful years with Red Bull, I have decided to leave Red Bull at the end of this year," Vettel said on his personal website. "Of course it is a big step and hard to make such a decision."
Red Bull immediately named a replacement, promoting Daniil Kvyat from its associated team Toro Rosso to join Daniel Ricciardo in a youthful 2015 lineup.
While Vettel said that "there will be an announcement very soon" about his future, Horner was in no doubt as to where the German driver was headed.
"As of January 1st he'll be a competitor," Horner said. "He'll be a Ferrari driver."
"Obviously Ferrari have made him a very attractive offer," he added. "The lure of Ferrari - a window has opened there with whatever is going on and he has decided the timing is right for him."
Current Ferrari drivers Fernando Alonso and Kimi Raikkonen are both under contract with the Italian team for next season, but Alonso has been in talks with the team about his future.
Asked on Friday whether he could be driving for either of rival teams McLaren or Red Bull next year, Alonso said: "This is a very difficult question to answer. And I will repeat the answer, probably I will do the best for Ferrari."
With the Red Bull option now closed, McLaren looms as the likely destination for Alonso should he leave Ferrari. McLaren will enter a new phase in 2015 with a switch to Honda engines as the Japanese automaker re-enters the sport.
Outgoing Ferrari president Luca di Montezemolo sounded resigned to losing Alonso when he spoke earlier this week at the Paris Motor Show.
"Whether he stays or doesn't stay, he has done a lot for Ferrari," said Di Montezemolo, still Ferrari's president until Sergio Marchionne takes over later this month. "We have a contract and in the next few days we are going to take a final decision with a lot of respect for one another.
"If he says he will stay, we will be happy. If we decide together to end our collaboration, it will be in the best manner possible."
Alonso said after qualifying at Suzuka that he expects to make a decision soon.
"Let's say I have had my mind set for two or three months," Alonso said. "Everything is moving in the right direction but I am still not 100 percent decided. I can go more or less where I want to go in the time I want to go and I will use my time in the best way."
Alonso said the possibility of Vettel joining Ferrari won't influence his thinking.
"Anything is a possibility," Alonso said. "I don't know if he is going to Ferrari first of all. My first priority is to help my team in these races, then my future and Sebastian is very low priority at the moment."
Vettel joined Red Bull from Toro Rosso in 2009 and won four straight championships between 2010 and 2013. He has yet to win a race in 2014 when the Mercedes team has been dominant and he has been outperformed by young Australian teammate Ricciardo.
There had been speculation in recent weeks that Vettel and Alonso would swap teams for next season, but Horner said there was never any intention to poach the Spanish two-time F1 champion.
"Fernando is a wonderful driver, but our philosophy and policy is to invest inwardly, invest in youth and give youngsters a chance," Horner said. "There were question marks when we signed (Vettel) and question marks when we signed Daniel Ricciardo, but we have demonstrated that it works."
Kvyat was delighted with his promotion to the Red Bull team. The Russian became the youngest driver to earn a championship point when he made his debut as a 19-year-old in Australia this year.
"I was very honored, very surprised," Kvyat said. "The people around me know I like to work hard and do my best."
Toro Rosso will add an even younger driver next year in 17-year-old Max Verstappen, with the other seat to go to one of the many aspiring youngsters in the company's driver development programs.