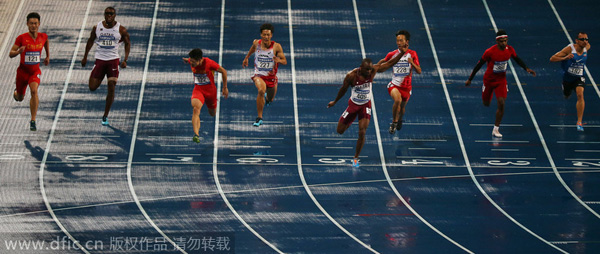 Qatari sprinter Femi Ogunode dashes to the finish line to win the men's 100m final at the Asian Games in Incheon, Sept 28, 2014. [Photo/IC]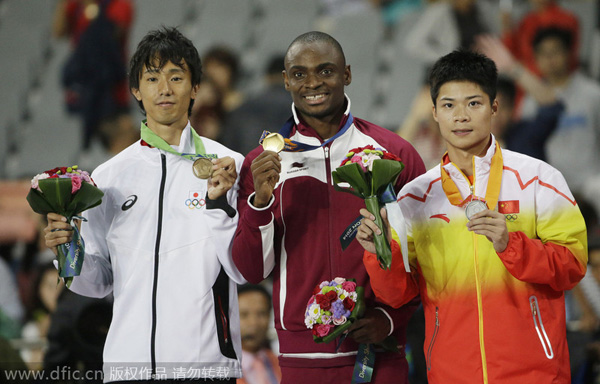 Medalists of men's 100m race pose on podium at the Asian Games in Incheon, Sept 28, 2014. [Photo/IC]
Qatari sprinter spoiled the party of Japan and China squaring off at the men's 100m final with strong performance, but the showstopper was welcomed by his East Asian counterparts for raising the bar of the sprint event completion.
Femi Ogunode, a Nigerian-born sprinter who competes internationally for Qatar, stole the spotlight from Chinese athlete Su Bingtian and Japanese Kei Takase by winning the men's 100m final at the Asian Games and smashing the previous Asian record in 9.93 seconds on Sunday night.
Su claimed the silver medal by clocking in 10.10 seconds while Takase finished third 0.05 second later.
Ogunode's impressive performance stunned the crowds at the Incheon Asiad Main Stadium, who expected the 100m final to be a showdown between the Japanese and Chinese sprinters.
The 23-year-old, who moved to Qatar in October 2009 and began international competition after acquiring the Qatari citizenship, boasts confidence to challenge anyone in the sprint world after the final.
"I believe in myself that I can challenge anybody. I see myself winning the gold in Rio (at the 2016 Olympic Games)," Ogunode said in response to a question of whether he could challenge Usain Bolt's supremacy in the sprint races.
Su, who fully concentrated on his Japanese rivals before the race, said the strong emergence of Ogunode will help raise the entire level of sprint event in Asia.
"The field (of the 100m final) at this Asiad was so strong, so I feel quite happy to be able to pull out with a silver medal on my neck," said the 25-year-old sprinter.
"I think the entry of Qatari athletes will raise the competition level of the sprint race and boost the already-existing rivalry between China and Japan. With the motivation gained from a tougher opponent, we will push ourselves to the limit and improve our performance."
Takase echoed Su's sentiment, stressing that tougher rival will provide extra drive.
"The higher level of the Asian Games will inspire us Japanese athletes to do better. We will definitely not be left behind as the competition level goes higher."
China's another promising sprinter Zhang Peimeng, who just created the national record of 10 seconds at last year's Moscow Worlds, finished fourth at the final in 10.18 seconds.
"I am still not on my peak form now as I am experiencing an adjustment period. I think I will catch up with my pace and I will still aim to crack in the 10-second bar in the future," said Zhang.
sunxiaochen@chinadaily.com.cn