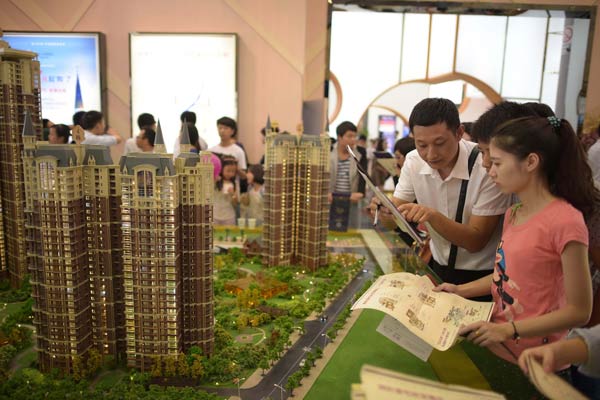 Potential homebuyers visit a housing expo in Chengdu, Sichuan province, on Oct 1, 2014, the first day of the seven-day National Day holidays. Analysts said a significant rebound in home sales is on the way after the central bank eased housing credit conditions. XUE YUBIN/XINHUA
China's housing market apparently failed to make a comeback in the "golden sale week" following the central bank's latest credit easing policy. But brokerages and analysts are optimistic that a significant upswing will take place later this year.
From Oct 1-6, a traditionally busy season for the property market, the number of contracts recorded online in Beijing was 510 units, down 38.3 percent from the same period last year, according to Beijing's housing authority.
In Guangzhou, recorded contracted sales totaled 401 units, 43.9 percent fewer than a year earlier. And sales in second-tier cities such as Hangzhou in Zhejiang province and Suzhou in Jiangsu province posted even greater slumps.
But brokerages and research institutes said the online records do not reflect real-time transactions. Instead, they are a reflection of housing sales one or two weeks earlier. Contracts recorded from Oct 1-6 only mirror the market at the end of September, before the credit-easing policy was adopted.
Most analysts expect that thanks to a looser definition of "first-time homebuyers", more "trade-up" demand will be unleashed, pushing up sales numbers.
"The lower costs and increased availability of mortgages will encourage more prospective buyers to buy homes for their own use (rather than as an investment) and partially alleviate the downside pressure on property sales," said a statement from Moody's Investors Service Inc after the new policy was announced on Sept 30, just before the weeklong national holiday.
People who have paid off their initial mortgage are now able to apply for a loan for a second home as a "first-time buyer". The status entitles them to a lower down payment (30 percent versus at least 60 percent), as well as lower mortgage rates (as low as 70 percent of the benchmark rate versus at least 110 percent) even if they already own a home, the People's Bank of China said.
Under the previous policy, people would be regarded as "second-time homebuyers" even if they had paid off their mortgage and sold their properties. Third-time buyers were prohibited from access to a bank loan, but now even they can get home loans from banks.
The policy came as housing sales in September disappointed the market, and prices continued to soften. Home prices in 100 cities monitored by the China Index Academy fell 0.92 percent from August, the fifth consecutive monthly drop and the biggest slump in four years.
A visit to several brokerage outlets across Beijing showed there had not been an influx in customers. But sales agents said they had been receiving calls over the past week from prospective buyers curious about the implications of the new policy.
"In the first two or three days (after the policy was announced), not too many people called because most of them were away on vacation. The calls grew a lot later. Most are afraid prices have reached a historic low. The sellers also got tough, refusing to budge on price," said one housing agent who declined to be identified.
Du Bingguo, research head of the China Index Academy—owned by SouFun Holding Ltd, which runs China's largest real estate website—said the tepid online contract numbers do not reflect updated sales figures.
"The number of secondhand home inquirers, by phone or by store visit, increased nearly 30 percent during the 'Golden Week'. Visits to SouFun.com also got a boost. It was directly due to rising interest in homebuying," Du said.
"The policy will help unleash demand from home upgraders who were unable to buy a house under previous stringent policies. But what is more important is it shifted market sentiment, which will boost turnover and halt the price declines," he said.
Du said he expects sales will hit a record in the fourth quarter, exceeding those of 2013's last quarter.