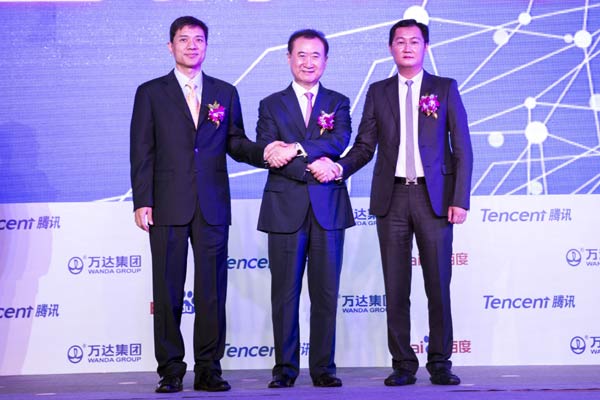 From left: Robin Li, Baidu Inc's CEO; Wang Jianlin, chairman of Dalian Wanda Group Co Ltd; and Pony Ma, the founder of Tencent Holdings Ltd, at the signing ceremony of their 5 billion yuan joint investment in e-commerce on Aug 29. CHINA DAILY
Jack Ma, chairman and co-founder of Alibaba Group Holding Ltd, seems to be feeling on top of the world at the moment, and not without reason. He has just been listed as China's richest individual, and his e-commerce conglomerate has made its debut on the New York Stock Exchange as the largest IPO in history.
His Hangzhou-based Alibaba is the dominant player in China's large and still rapidly growing e-commerce market, but Ma is not necessarily guaranteed his place on top of the pile, particularly with adversaries such as the country's second, third and fourth richest men snapping at his heels.
Real estate entrepreneur Wang Jianlin, the fourth richest individual in the country and the wealthiest last year, announced a 5 billion yuan ($813 million) joint investment in e-commerce at the end of August with Internet magnates Pony Ma, the second-richest person in China, and Robin Li, the third richest.
Under the agreement, Dalian Wanda Group Co will control 70 percent of the shares in the new joint venture, and Ma's Tencent Holdings Ltd and Li's Baidu Inc will split the rest.
Wang, chairman of developer Dalian Wanda, said at the news conference at Tencent's headquarters in Shenzhen: "Selling products only accounts for a small part of the multi-trillion-yuan e-commerce market in China. We are trying to introduce a seamless online and offline shopping experience to customers."
The tie-up of the three titans makes a dream team of online-to-offline business, which is seen as the future model of e-commerce, and poses a threat to Alibaba's online dominance, analysts say.
Vanessa Zeng, a senior analyst at Forrester Research Inc, says that joint forces will build win-win-win collaboration because the three companies have advantages in each of their sectors and these advantages seem to be a perfect match with each other to develop O2O business.
"Wanda intends to develop O2O transformation based on its offline commercial property, Wanda Plaza in China," Zheng says. "Wanda's core resource of doing e-commerce is its VIP customers and the customer data. In partnering with Tencent and Baidu, Wanda can leverage Tencent's social network resources and payment capability and Baidu's search and big data capabilities."
Through this collaboration, Wanda can produce advantages in marketing, the supply chain, consumer finance and big data, and pool these resources to further develop their operating model, she says.
Rather than simply selling brands showcased in Wanda's department stores online, the three companies are working on something that is highly experimental in bringing online and offline shopping together.