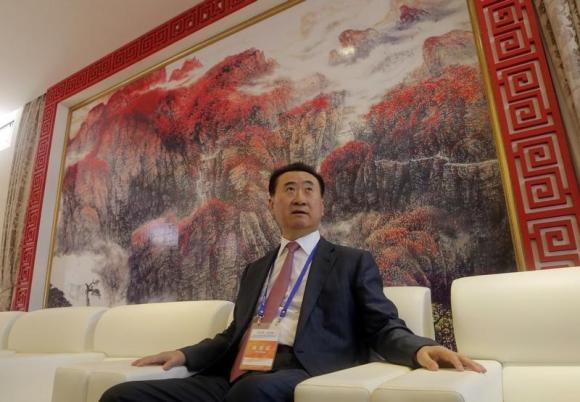 Wang Jianlin, chairman of Chinese property developer Dalian Wanda Group, sits in a meeting room as he arrives for the launch ceremony for the Qingdao Oriental Movie Metropolis on the outskirts of Qingdao, Shandong province September 22, 2013. [Photo/Agencies]
About 20 billion yuan ($3.3 billion) will be injected into an e-commerce joint venture formed by Dalian Wanda Group Co Ltd, Tencent Holdings Ltd and Baidu Inc in the next five years, Wanda's chairman Wang Jianlin said on Friday.
The country's leading property developer, set up the JV in a bid to bridge the online and offline sales channels, he said.
Initial investment of the project is 5 billion yuan, according to a joint statement released by the three companies.
Wanda will control 70 percent of the shares in the new company while Tencent and Baidu will go halves with the rest 30 percent.
"The JV will sell services rather than products," said Wang, adding his intention was to provide a new shopping and entertainment experience to thousands of Chinese shoppers.
Wanda runs the largest shopping mall network in China. Cinemas and other recreational facilities are included in the malls.
The company expects the number of subscribers of the JV to break 40 million this year, and that by 2015 it will hit 100 million.
Wanda intends to develop an online-to-offline transformation with its nationwide brick-and-mortar commercial properties known as Wanda Plaza, said Vanessa Zeng, a senior analyst at Forrester Research Inc.
"Wanda's core resource of doing e-commerce is its VIP customers and customer data," she said.
The new JV will pose a challenge to Alibaba Group Holding Ltd, the world's biggest online shopping company by transaction volume.
Tang Jia, a researcher from Analysys International, said Alibaba is also attempting to tap into online-to-offline sector, but with a little advance.
"I think everyone is trying to figure out how to play in this new business model," said Tang.